The Complete Guide to Contests for Dentists
Guaranteed website traffic.
Exponential follower growth.
Revenue.
For dental businesses looking to grow their following, engage with their fans, and generate valuable leads, I'd like to introduce to you the social media contest.
When it comes to employing social media as a revenue generating tool for your business your options are admittedly slim.
You can pay to use a social media ad network like Facebook's. You can do your best to share valuable content and drive organic traffic. You can do all of the above and still fail to find valuable traction on social media.
While those tactics fall flat, a social media contest will engage your followers, reach new audiences, and bring an element of excitement to your social media strategy.
From our experience here at Wishpond, a social media contest is one of the most effective ways of using social media to drive measurable leads and sales.  
In this article we'll explore social media contests and how they can benefit your dental business.
Types of Social Media Contests
One thing that makes social media contests great is their flexibility. The rules, prize, and design of a social media contest can all be adapted to your individual business goals.
These are the types of contests available:
Sweepstakes contest. Just enter with your email and a winner will be chosen at random.
Photo contest. Enter a photo in the theme of the contest and be entered to win.
Video contest. Enter a video in the theme of the contest and be entered to win.
Caption contest. Enter a creative caption for a photo and a winner will be chosen.
Hashtag contest. Enter a photo or video using a specific hashtag and be entered to win.
Vote contest. Enter a photo or video and the crowd will vote for a winner.
Each type of social media contest is meant to encourage a bit of interactivity between you and your followers. Participants perform a small task, submit their information, and enter to win the prize.
As an added bonus for running a contest you can receive awesome user generated content (UGC).
The photos, videos, and creative media you receive with the entries can be transformed into content to be shared across your social media channels. Think of it as killing two birds with one stone. You get valuable leads and UGC, they get to win an awesome prize. It's a win-win.
Next we'll talk about choosing the prize for your contest.
Prizes for contests
When selecting a prize for your social media contest there's one thing to keep in mind: Tie your prize back to your business.
Allow me to explain.
Tying your prize back to your business means choosing something that is closely related to your industry. It insures everyone who enters is interested in what your business offers.
Let me give you an example.
Offering a shiny new iPad would be a very poor choice for a dental business social contest. Those who enter would do so solely to win the iPad, not because they're interested in your business.
In the case of a dental business the best bet would be to offer something like credit for teeth whitening or a Sonicare toothbrush. With prizes like these you'll know those who enter have at least a mild interest in dental care thus would be more likely to become a paying customer down the road. It results in more targeted leads and ultimately more sales.
One final note about choosing a prize.
At Wishpond we always recommend a prize package rather than a single large prize item. This does two things. (1) A prize package composed of smaller items appeals to a wider range of people and (2) it has a larger perceived dollar value.
In the next section we'll take a look at some examples of past successful dental business contests.
Examples of contests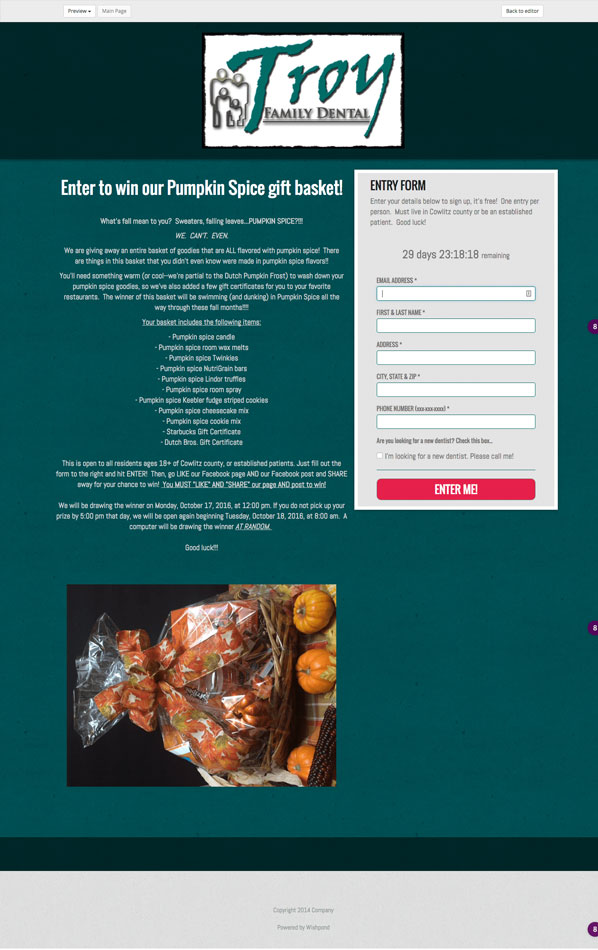 To grow their social media channels and collect local leads, Troy Family Dental ran a sweepstakes contest for this pumpkin spiced gift basket. All participants had to do to win was enter with their contact information.
What we like about this contest:
The prize. Although not very dental related, this prize is something a lot of people would want. It being relevant to the season, a fall celebration, Troy Family Dental found a huge demand for this gift basket and collected hundreds of leads.
Simplicity. A simple sweepstakes was enough to generate a huge demand for their fall gift basket. Collecting leads and growing their social media channels was the goal so it didn't require a much more complicated contest.
Sharp copy. The copy at the beginning is kept sharp and lighthearted perfect for a contest promoting a celebration of the season.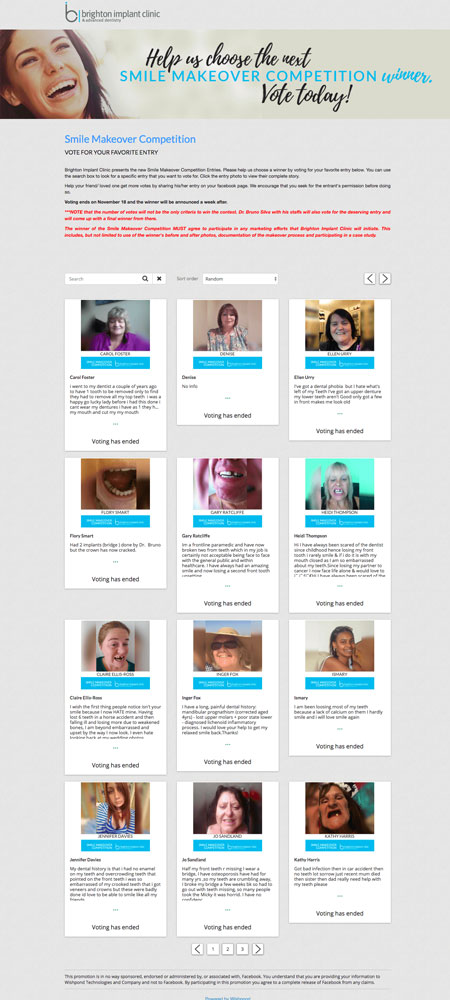 Brighton Implant Clinic ran an interesting photo contest for a complete smile makeover. People would submit a photo of their smile and folks would vote on who would receive a stellar smile readjustment.
What we like about this contest:
Interactive. A photo contest like this involves Brighton Implant Clinic's entire audience. It gets new and past social media followers involved in the services they provide.
Social. Participants have to engage with their networks to vote for them if they hope to win. Doing this makes the contest spread like wildfire, reaching many more people who'd be interested in entering.
The prize. The prize is kept simple, a free procedure of the exact service they sell. There's no need for a gift basket or fancy prize. The people who enter are already interested in a smile makeover, and if they don't win, might become a patient anyways.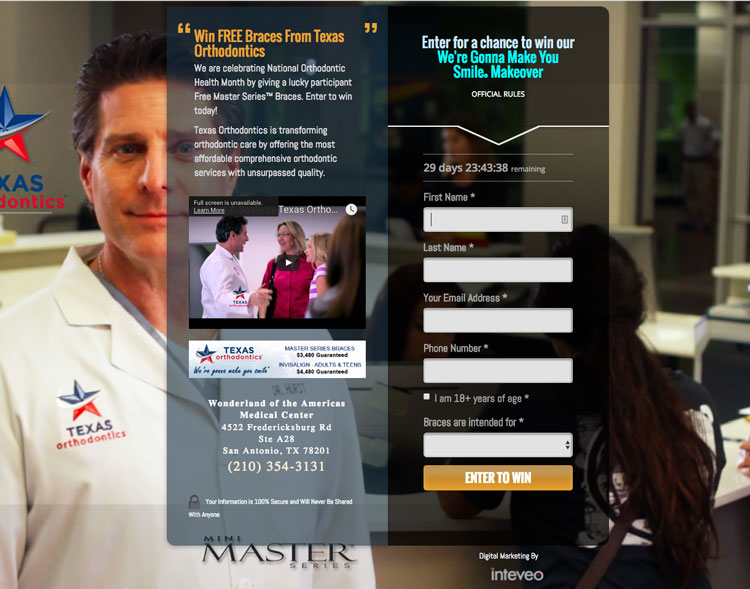 Texas Orthodontics ran a sweepstakes contest for free braces in celebration of national orthodontic health month. Not a cheap service by my estimates, which made this contest a huge success.
What we like about this contest:
The prize. At a cost of a few thousands dollars it's no wonder this contest was a massive success. Offering your exact service as a prize is a smart way to find valuable leads and promote your business.
The design. The design is kept playful, as contest should be. Visuals frame the entry form and draw the eyes inwards.
Video. A video improves the credibility and authority of the contest for those unfamiliar with the business. Studies show that video communicate professionalism and an attention for detail. It provides the extra security and persuasion for those hesitant to enter in their personal information.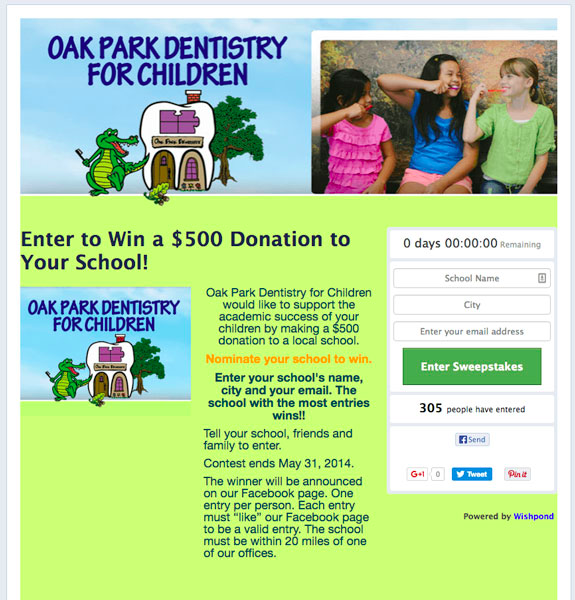 Oak park Dentistry for Children ran this sweepstakes contest for a $500 donation to your child's school. What made this contest unique is the school with the most entries would win. For any chance of winning you'd need to promote this contest to the entire school.
Why we like this contest:
Promotional strategy. Having those who enter go and promote the contest to their entire school is cunning way to promote your contest. Oak Park Dentistry gains free exposure and exponentially more entries.
Imagery. Images of children make the offer that much more compelling to readers. Seeing exactly who you're helping (the kids) adds to the persuasiveness of the offer.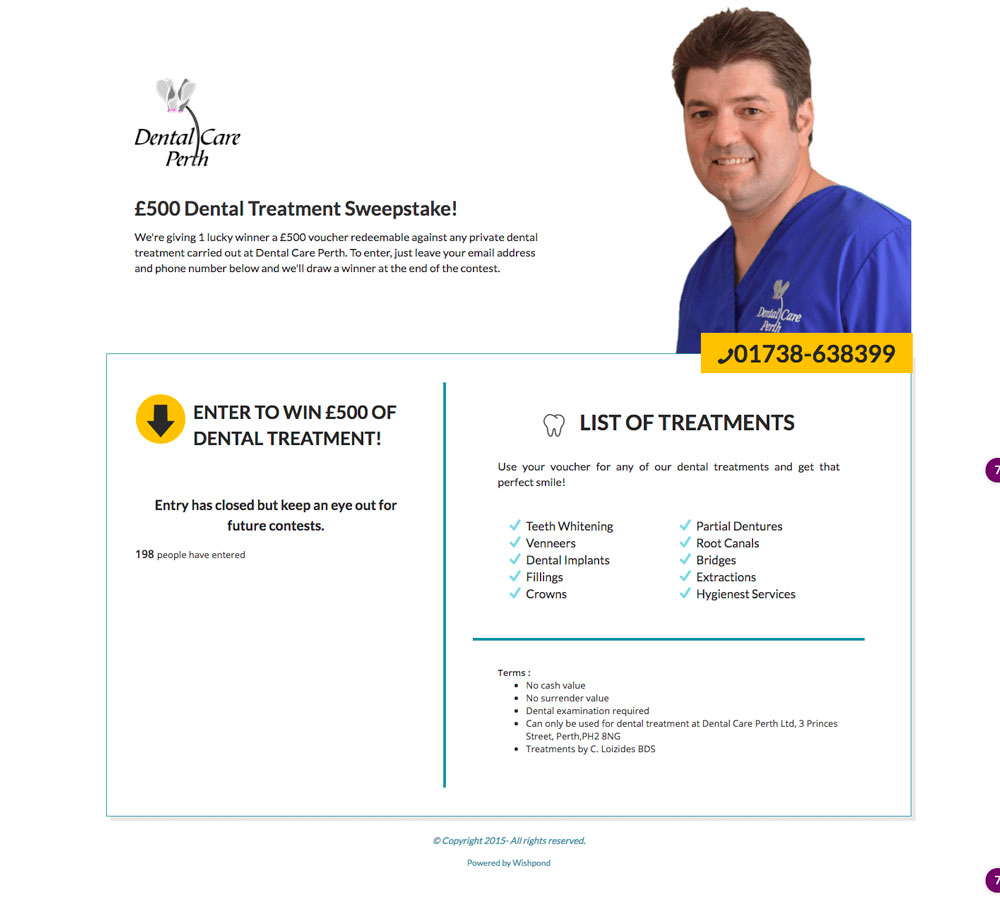 Dental Care Perth used this sweepstakes contest to collect leads and offered £500 worth of dental treatment credit. The winner had the choice of using it on any of the several dental treatments Dental Care Perth offered.
What we like about this contest:
The prize. A credit towards the service you offer will always attract a crowd interested in your business. Although we would suggest an addition to the credit to attract a larger amount of people. An electric toothbrush for example, could add an extra bit of appeal to the total prize.  
The design. The design is kept simple and focuses much of the attention on the copy of the page. The prize is instantly understood, the list of treatments is clear, and the terms of the contest are simple. Nothing about the design distracts from the communication.
Promoting your contest
Now that you've chosen your contest type, your prize package, and seen some examples it's time to start promoting your contest.
To promote your contest online you have a choice of two methods: Paid and organic.
Paid promotion involves tools like online advertising or paid promotion. We went over using Facebook ads or Google AdWords to drive traffic to your website in the previous section. In that case you'd be using online ads to drive traffic to your contest page.
If you've only just started promoting yourself online, paid advertising is highly recommended (if you have the resources that is). Paid advertising allows you to quickly hone in on your target audience and drive immediate traffic.
Ad networks like Facebook and Google get millions of users daily so it helps to have a captured audience ready to go.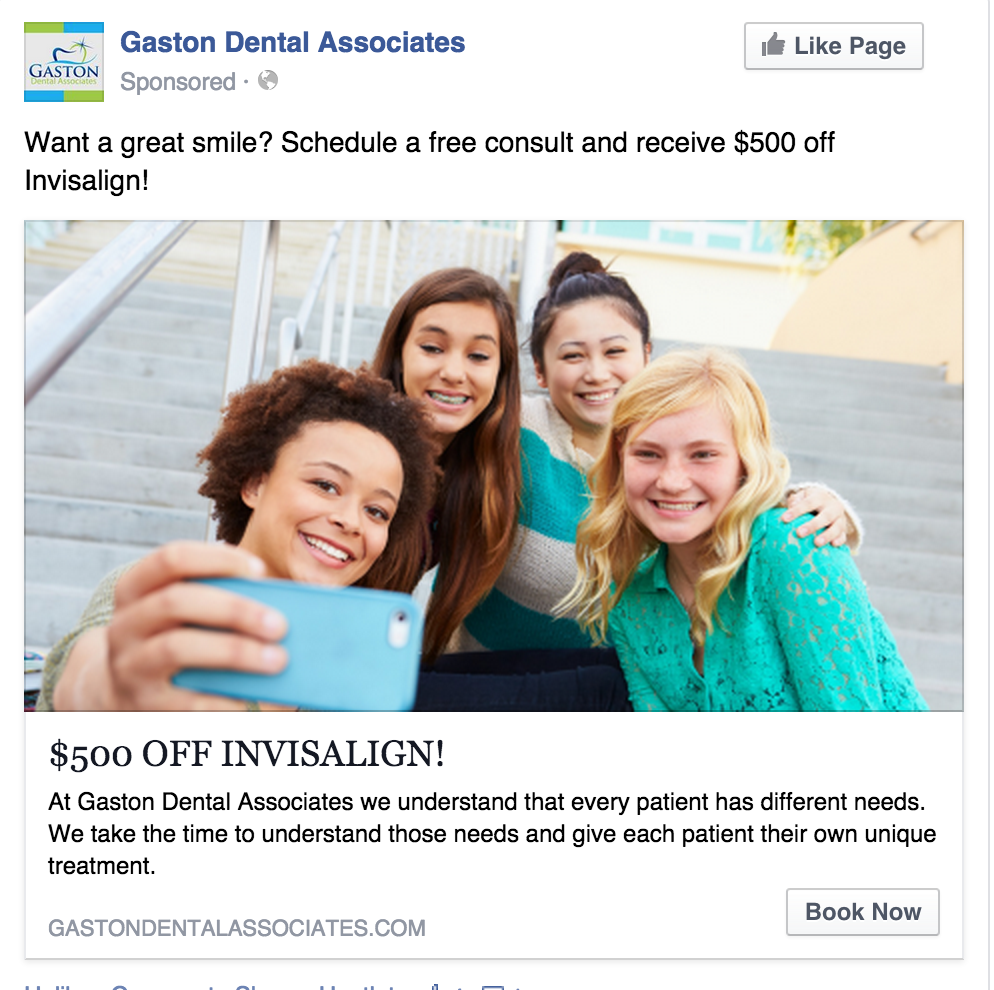 If your business has been online for a while now and you've build up a healthy following you have several options for organically promoting your contest. By organic I basically mean for free. Organic methods leverage your existing network for promotion so that your contest page receives traffic naturally.
Here are a few organic methods of promoting your contest:
Social media. Promoting your contest to your social media following is as simple as publishing a post to let them know it's running. Remember to include a call-to-action, "enter before Tuesday!" or "tell your friends to enter" to help it propagate.
Email. Promote your contest through email by sending out the contest details. Then keep them updated in subsequent emails on the contest status and timeline. Don't forget to include social sharing buttons and calls-to-action for entry.
Partners. Partnering with related businesses or businesses in your local area is a great way to double your promotional power. A partner can contribute a portion of the prize while both of you promote the contest to your networks. Then the leads are shared. Both businesses receive double the leads and a wider range of participants.
Follow-up on your contest
To finish off your contest the last thing you'll need to do is follow-up with those who've entered.
Once the clock on your contest has counted down to zero it's time to choose a winner. If you're using a contest platform (like Wishpond) then it should randomly pick and email the winner for you. Or if you're choosing the best entry, a photo or video, you and your team can pick.
Next you'll have to email everyone to tell them the contest has finished and a winner's been chosen. Thank them all for their participation and tell them to keep their eyes open for the next one.
Take this opportunity to attach a small discount, consolation prize, or a free consultation.
Your goal here is to start the relationship building process with your new patient leads. You need to keep your business and your brand on their radar until they're ready to buy.
There are no rules when it comes to following up with your contest participants. From what we've seen here at Wishpond it's wise to not push for the hard sell right away.
A week later you might send a helpful article on flossing technique for example, just to keep the conversation going. Then when the time is right you can push for the sale. Granted your ultimate goal is to get potential patients through the door and onto one of your seats so don't rush the process. A small "ask" like a free consultation is a great way to offer value at a low-cost while bringing in more foot traffic.
Get creative about what you can offer those patient leads to create a stronger relationship and get them through the door into your office.
Final Thoughts
Hopefully this overview of contests for dental businesses has given you enough insight into the benefits and process. Like I said before, a contest is a fun way to engage your audience and grow your following online, all while generating valuable patient leads.
Ideally it would be best to use a contest building platform to make creating, running, and promoting your contest simple.
To recap, the process was to…
Pick what type of contest you want to run. Choose something that you're capable of handling. Above all else, make sure it meets the current marketing goals of your business.
Pick a prize for your contest. Remember that the best prize is one that is tied back to your business. Also, make it a prize package rather than a single prize.
Promote your contest either with paid advertising or organically through your network. If you need immediate traffic and have the budget, go with paid advertising for the fastest results. If you've already developed a large network of fans and partners, save on costs and get traffic organically.
Lastly, follow up with everyone who's entered your contest. Attach a small offer for everyone to claim and keep in touch with them periodically. The goal once your contest is complete, is to begin nurturing your relationship with your new patient leads. Keep your business and brand on their radar until they're ready to become a paying customer.