The Complete Guide to Drip Campaigns for Dental Businesses
What is a drip campaign?
Email drip campaigns— also referred to as automated emails, marketing automation, or email drips— are automated series of pre-written emails sent out according to a set schedule or action trigger. If someone makes a new account on your website for example, they'll be sent a welcome email and maybe a series of follow-up emails.
The whole idea of a drip campaign is to keep your business in the mind of your consumer until they're ready to make a purchase. This is referred to as "nurturing". As in nurturing a prospect into a sale.
The beauty of using a drip campaign is the hands-off automation. Drip campaigns can be automatically triggered according to actions and segments that you define; at anytime of the day.
You also have the ability to reuse content instead of typing up a one-off email each time. A welcome email and a series of next step emails can be written once and sent to every single new customer.
You can set up drip campaigns for educating new customers, reengaging with inactive customers, or helping struggling customers. The flexibility of a drip campaign makes them suitable for a lot of tasks. The main idea to understand is they can be used to pinpoint customers at exactly the time they're ready to buy.
According to the email marketing suite Emma, automated emails get 119% higher click rates than broadcasted emails. And because sending relevant content at the right times is the best way to do things, these emails result in 18x more revenue. Fairly compelling reasons to use drip campaigns no?
Now I'll describe how drip campaigns work.
How Do Drip Campaigns Work?
Below is an illustrated version of a simple drip campaign done by the automation company Pardot. It's meant to visualize the steps of a basic drip campaign from beginning to end.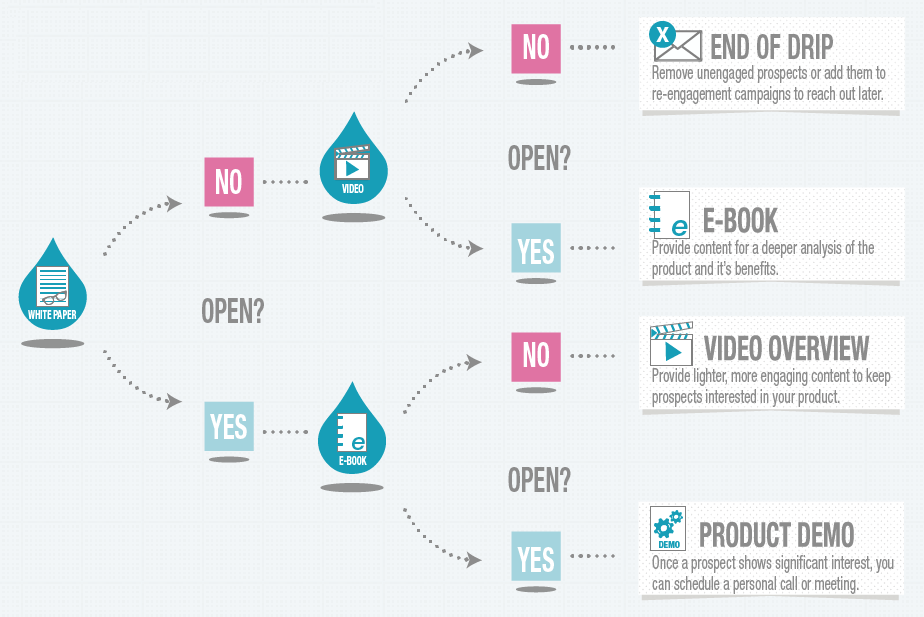 Before a drip campaign is initiated something has to trigger it. I'll give you an example.
Let's imagine someone came to your website and downloaded a free digital brochure on child oral health care. That initiated our child oral health care drip campaign.
From their interest in child oral health care we can assume they're researching and exploring their options regarding their child's teeth.
A few days after they downloaded the brochure we'll send them email number two. A free ebook on proper teeth cleaning habits for children.
If they open that email we'll send them a third email days later. This time with a blog post detailing the success you've had fixing children's smiles.
Now if they open that third email we'll know that they're ready to be pitched. We would send an email offering a free children's consultation and smile assessment. Since we've been building their interest with relevant content the chances are high that they'd claim the offer and come into your office.
At any point in this drip you'd be free to add more steps or more triggers. If they didn't open the second or third email for example, we can assume they lost interest. At that point we can continue the drip, send them to a different drip, or stop dripping them altogether.
Note that what I described is an extremely simple example of a drip campaign. Drip campaign maps like the example above can get far more complex. The point being that drip campaigns allow tons of room for creativity and iteration.
Drip Campaign Strategy
For those new to drip campaigns we recommend going with a 3:1 schedule. 3 value-packed or informational emails then 1 sales email.
The graphic below illustrates what I'm talking about.
If a recipient clicks through on any of the 3 emails in white they'll be sent an accompanying email with an offer in yellow. If they don't they'll continue to be sent more drip emails.
Each of the white emails are educational, meant to inform a recipient on a certain topic.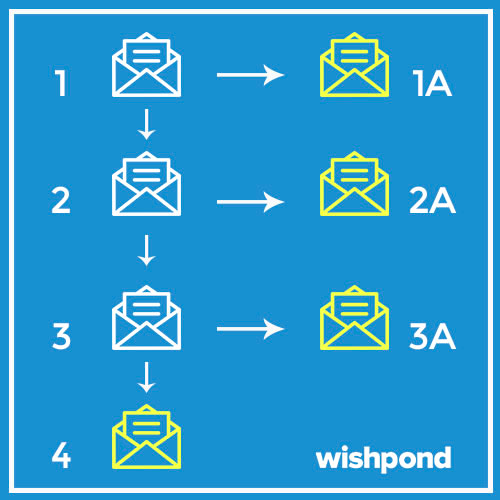 Example drip campaign
We'll use children's oral health care as an example again. We're going to use a drip campaign on anyone who's downloaded our free brochure on children's oral health care from our website.
The actions of this drip campaign are based on implied interest. If a recipient clicks-through on any of the drip emails we send it implies interest thus we send an offer.
Email #1
Educational
Topic: Smile Friendly Foods for Children
If they click-through on Email #1 they'll be sent Email #1A with an offer. If they ignore the email the drip campaign will continue with Email #2. If the offer is ignored then the drip will continue all the same.
Email #1A
Offer
Topic: Free Smile Consultation
Email #2
Educational
Topic: Children's Oral Care Myths
Email #2A
Offer
Topic: Free Smile Assessment
Email #3
Educational
Topic: Top 5 Children's Toothbrushes
Email #3A
Offer
Topic: Free Dental Health Consultation
If Email #1, #2, #3 are ignored then a final offer email will be sent.
Email #4
Offer
Topic: Free Oral Health Consultation
If none of the offers are claimed the drip will stop. From then on the recipient will only receive generic email communication.
Setting This Drip Campaign in Wishpond
To trigger this drip campaign a potential customer will have to download our free children's oral care brochure from our website. They'll be added to our list on Wishpond and the drip campaign will be triggered.

In the condition settings we only want to add people who are in this specific list. We need to remove anyone who hasn't downloaded the brochure. Lastly, we only want to initiate this drip campaign one time per person.

Once they're sent their brochure and it has be downloaded the next step initiates. 5 days later they'll automatically be sent the email "Smile Friendly Foods for Children."

If they click on this email our offer email will be triggered and they'll be sent our "Free Smile Consultation" email.

Finally we'll set a condition to see whether or not they click through and claim the offer. If not, the drip will continue with the next content email. If they do claim the offer they'll be removed from the drip.
Final Thoughts
The benefits of using drip campaigns in your business are plenty. Whether your business is small or large, drip campaigns can help improve your marketing strategy.
Drip campaigns are…
Timely. Deliver relevant information right when your customers need it. Drip campaigns are only triggered when a customer interacts with your business.
Nurturing. Drip campaigns nurture leads until they're sales ready. They can deliver relevant email content until those leads are ready to make a purchase.
Automated. Work smarter with drip campaigns. Spend time setting up your drip campaigns once and let them work automatically in the background.
If you're new to drip campaigns start off slow. Set up a simple one first. A welcome series of emails for new subscribers for example. Experiment and test what works best with your website visitors.
The example I've shown only scratches the surface of the capabilities of a drip campaign. The depth and complexity of your drip campaigns are only limited by your goals and creativity.