The Complete Guide to SEO for Dentists
If you're reading this article then I'll assume you're already aware of the importance of search engine optimization (SEO), also known as making your website search engine friendly.
The days of looking up a business' phone number in the Yellow Pages are long gone. Today we have Google!
Let's say I'm looking for a new dentist in my area. A quick Google search for a dentist in Burnaby for example, returns thousands of results in milliseconds. What I see is a mixture of local business ads, Google map results, blog posts, and much more.
So the question is, how can I ensure my dental business shows up every time someone searches for a dentist in my area?
The short answer: local search engine optimization.
Showing up in the top 3 results of Google's local listing search results provides a staggering amount of online website traffic for many businesses. It's prime real estate that any local business would kill to have.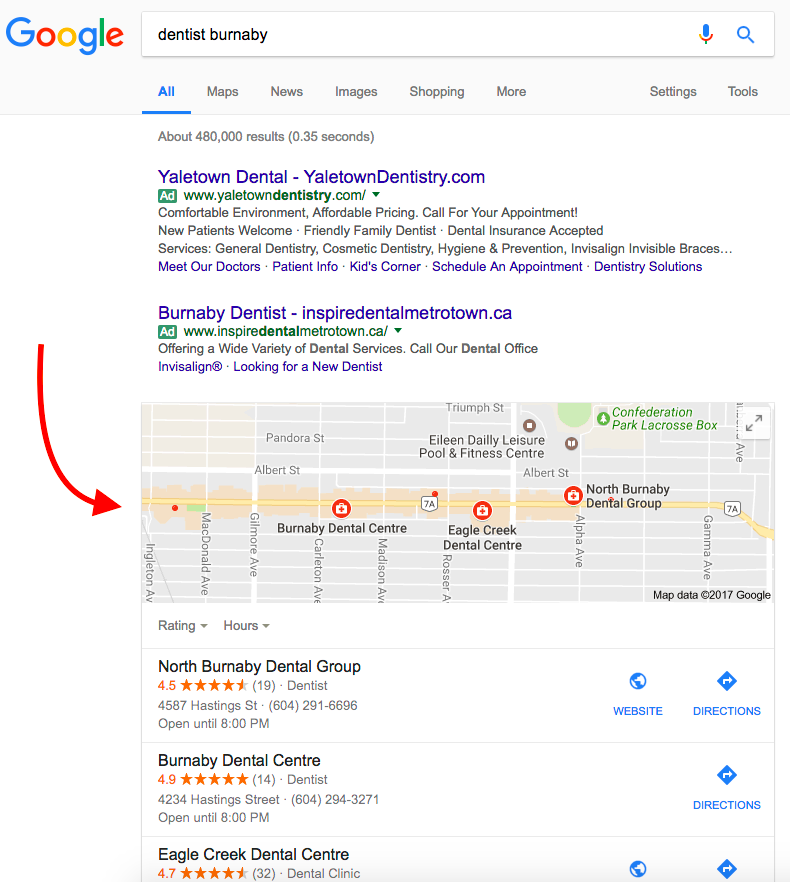 Between managing your business listings, updating your website, and keeping up with Google's algorithm changes, local SEO can quickly become quite the beast.
Don't worry.
In this article I'll give you an overview of what comprises local SEO and how you can put your business in an ideal position with Google.
First Things First
If you haven't already, go ahead and claim your free Google My Business account.
This is where you'll be listing all of your business information for Google's search engine to index.
Once you've setup your new account you'll need to enter the following…
Add a long, unique description that's formatted correctly and includes links to your website.
Choose the correct categories for your business.
Upload as many (professional-looking) photos as possible.
Add a local phone number to your listing.
Add your business address that's consistent with that on your website and local directories.
Upload a high-resolution profile image and cover photo.
Add your opening times/days (if relevant).
Get real reviews from customers (we'll explore this further later on).
Your NAP (name-address-phone number) information should be the same on every page and directory listing of your website. Different formats or incorrect information should be changed as soon as possible.
Schema Structured Data
Schema or structured data is a type of HTML markup that helps describe your website's contents to search engines. It tells them information about your business and what kind of content is on the page.
When Google's web bots are out in cyberspace crawling millions of websites schema helps them do their job much faster with more accuracy. Schema tells Google's crawlers that your website is a dental practice in Vancouver while no schema leaves them to figure it out (or fail to) on their own.
Moreso for local businesses, schema is important for providing additional geographic information about your business such as operating hours, location, city, phone number, etc. This allows you to have precise control over how you appear on Google search results.
Here's what a Google search result with schema information looks like: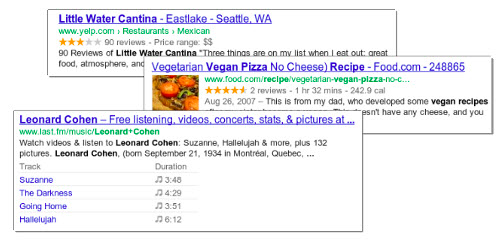 To see a list of schema properties that are commonly used for dental business websites click here.
To implement your schema markup you may need technical help to nail the syntax and placement.
Once you do have all of your schema in place you can test it to see if Google can read it correctly. Do this with Google's structured data testing tool.
On-Page SEO
Next we'll talk about best practices for optimizing the content on your website. We'll need to make sure your website is as Google-friendly as possible to achieve higher rankings.
On-page SEO can be resource and time intensive so I won't go into too much depth here. The following are a few areas that can be adjusted without too much hassle.
Set up your Google Webmaster Tools account to monitor your website's status in the search rankings. There you can see things like keywords you're ranking for, search terms ranking for each article, position, and much more.
If you use WordPress, install the Yoast SEO plugin to help you change your title and meta tags on all of your pages. Include your geographic keywords in all of them, city, state/province, zip/postal code.
Compress your images to speed up load times. Large images slow down load times and provide a poor experience for your visitors. Not to mention hurt your SEO. Using a free service like TinyJPG can cut your image sizes in half and greatly improve load times. If possible keep all the images you use under 100kb in size. Decrease the quality or dimensions of your images to keep the file size down.
Include at least 1,000 words on each of your web pages. Pages with a words count of 1,000+ indexed by Google typically perform better in the rankings. More content on the page is more content that Google can crawl.
Move alternative location and service information to separate pages. Businesses with multiple locations must have separate pages for each of their locations so as to not confuse Google's crawlers. Have a separate page for information about your uptown location and one for your downtown location.
Make your website mobile responsive. Websites friendly to mobile devices are now more than ever favoured by Google. Almost half of all web browsing is done by a mobile devices. If you've been holding off on a responsive website, it might be time to hire that designer and get your website up to snuff. The sooner the better.
If applicable, place your city/region plus a relevant keyword in your title, H1, content, image alt tag, and URL.
Start blogging regularly. Google's algorithm favours websites that are updated and maintained regularly. If you haven't already started one, a blog is an asset that can bring your website repeat consistent traffic. A regularly trafficked website is a positive ranking signal for Google. If you have the time and resources, blogging pays dividends in the long term.
Embed a Google map with your business marker onto your contact page. An embedded map provides a better user experience for your visitors and improves the compatibility of your website with Google. See the following example.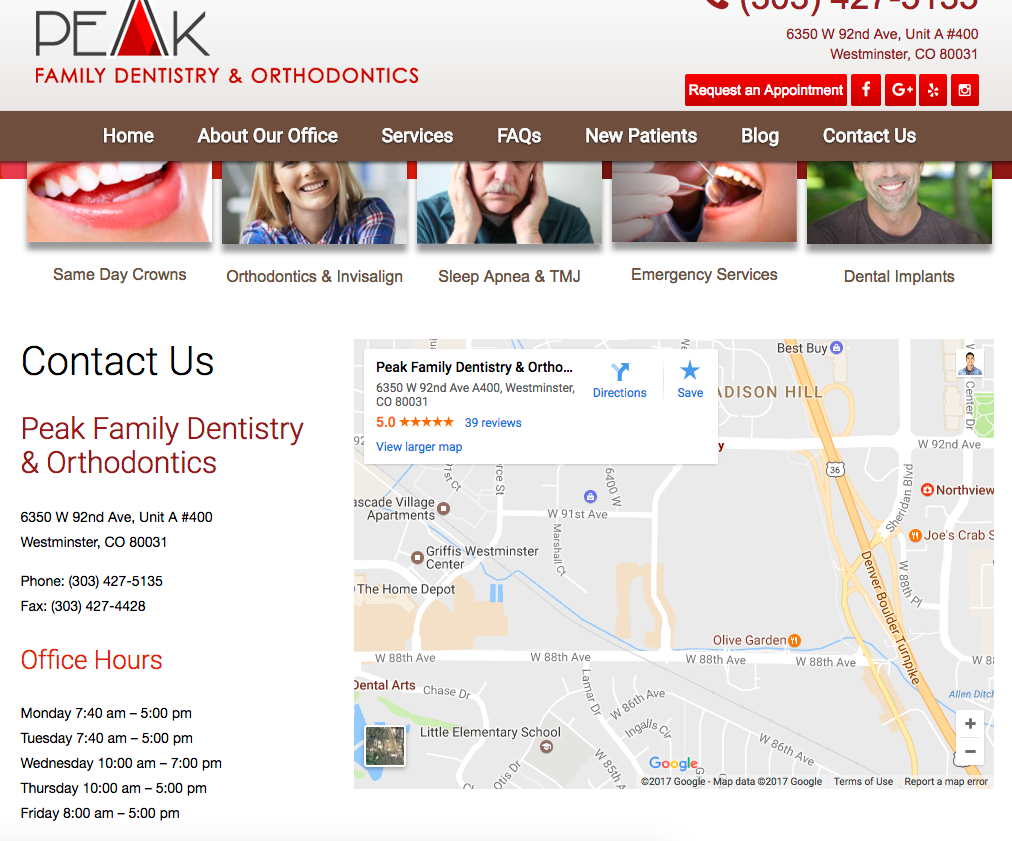 Citations
We've dealt with your Google My Business, schema, and on-page SEO. Now we can chat about improving your current ranking in Google.
Compared to regular link building strategies which rely on receiving backlinks for high authority websites, local SEO relies much more on backlinks for local high authority websites.
Local business directories are a useful resource for link building especially when it comes to citations.
A citation is an online listing of your business' name, address, and phone number (NAP). The more places you can list your business the better.
To find places to cite your website's NAP…
First ask your network, friends and family. They always have suggestions or ideas that you've missed.
See Moz's top list of citation sources for dentists here.
Use Moz's open site explorer to see what backlinks your competitors have and copy them.
Set up Google alerts to email you every time you or your competitors are mentioned then request a citation.
Reviews
Local reviews on Google have a direct impact on your ranking. Receiving a bunch of 5-star reviews on Google has been known to push even the most unoptimized business websites into first place so it should be high on your list of priorities to get as many as possible.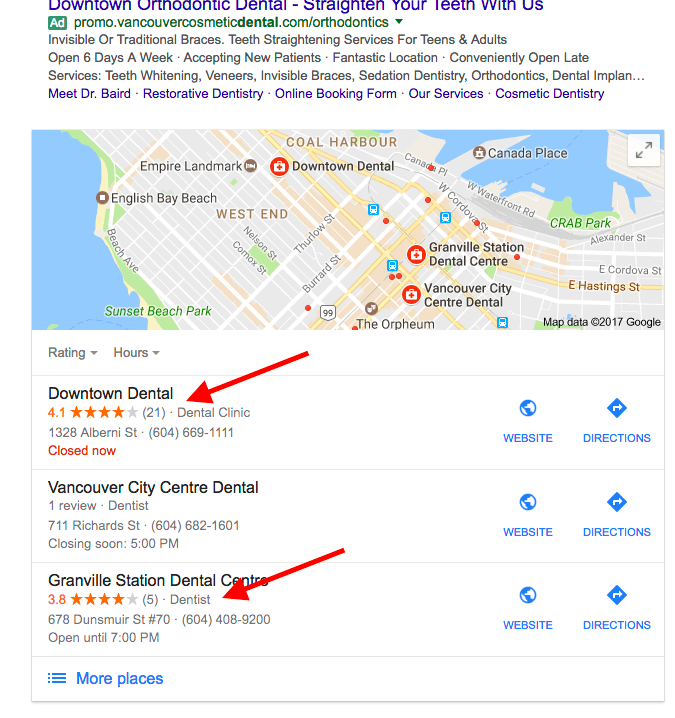 You'll want to prioritize collecting reviews on Google first, Yelp second, and any popular local listing website third.
Shopify published an excellent article explaining how online reviews impact local SEO and why they matter to your bottom line.
The easiest way to go about this is of course to ask your current and past patients to leave you a review on Google. Unless they're glad to help out of the kindness of their heart, the best way to ask is with an incentive like a discount or free gift. This printable instruction sheet from WhiteSpark on how to leave reviews for your business online is perfect to give to patients.
Another way to make it easier for patients to leave reviews is to create a landing page on your website dedicated to leaving reviews. It will include links to your profiles on popular review sites.
Other ways of sourcing reviews include…
Training your employees to "make the ask" once they've finished working with patients.
Searching Google for "[your location] + dentist reviews" to find review websites or opportunities you've missed.
Placing a "Find us on Yelp" sticker on your door or front counter.
Local Link Building
There are numerous ways to go about building links to your website. Links from popular local websites pointing to your website tells Google you're a legitimate resource. The more the better.
Here are a few strategies you can try:
Attend Meetups or events in your local industry to build partnerships, sponsorships, or co-promotions.
Create a local resource from public data or an interesting piece of content to pitch to local press.
Line up interviews with popular local media organizations.
Build partnerships with local businesses to list on their websites. Something as simple as a discount for local members of the community centre for example.
Enter local business awards for some recognition.
Monitor your competition to capitalize on opportunities they've received or discovered.
Offer student internships at local universities and colleges to receive links from their websites.
Final Thoughts
Hopefully this beginner's guide to SEO for your dental business has given you enough insight as to what it takes to get to the top of Google. SEO requires you to keep many plates spinning but overtime you'll see your efforts rewarded.
To get your dental business the best position possible:
Claim, complete, and optimize your Google My Business account.
Add complete schema structured data to your website.
Optimize your on-page SEO
Monitor and increase your NAP citations online.
Get more reviews for your business on Google.
Get more local links pointing to your website or Google My Business page.
Ideally you could request the help of a seasoned SEO agency or employ a local SEO software platform like WhiteSpark. Either way it pays to have some experienced help on your side.
Happy optimizing!