How to Use Social Media to Drive Dental Business Website Traffic
Social media has become a primary tool for many businesses to drive both organic and paid website traffic.
Unless you've been living on an uninhabited island for the last 5 years you've been a witness to the rise of social media for business. We've come a long way since the days of MySpace.
The number of businesses using social media has seen a sharp increase because of the improvement in usability and massive consumer adoption. You can reach anyone from your vlog watching little cousin to your antiquity appraising mother.
It's a tool that excels at building a following, interacting with fans, promotion, and much more.
Now when it comes to driving traffic for local dental businesses it's important to realize not every social network is created equal. Business owners don't have time to manage 6 social media accounts spread across multiple platforms.
To focus your efforts it's best to pick 1 or 2 social media networks that work best for your business. That means the network(s) that is helping you best accomplish your business goals.
In this article I'll go over 5 social networks that excel at driving website traffic and what they can do for your dental business.
Facebook
Facebook Stats:
1.79 billion worldwide users total
1.18 billion daily active users
1.09 billion mobile daily active users
73% of the US adult population
Approximately 84.9% of daily active users are outside the US and Canada
The most evenly-distributed demographics of any social media platform
Having a business page setup on biggest social media network in the world is now as important as having your business listed on Google or any business registry. A quick Google search for a company will list their Facebook page below (or sometimes even above) their website.
People searching for or discovering your business for the first time have a high probability of landing on your Facebook Business Page first.
In terms of traffic this makes Facebook a critical touchpoint for many of your visitors. You'll need to make sure all of your information and content points back to your website.
Let's say I'm looking for a dentist in my area and I receive a recommendation from my friend. I do a quick Google search and arrive on their Facebook page.
If our goal here is to provide enough information to convince a visitor to head to our website.
There are a few things that should be taken care of:
A completed About page with links to your website, location, hours of operation, email, etc.
Professional photos of your office and friendly staff. It helps to see what you have to offer before anyone steps into your office.
Reviews from patients. Reviews act as social proof for potential new patients.
Professionally created company logo and cover image placed in correct dimensions. Well-designed graphics communicate a certain care and pride in the business.
General Best Practices to Drive Traffic with Facebook Posts
Don't forget to post on the weekends – 32% higher engagement
Target your posts to your local area or the time zone
Include a Call-to-Action like "Read the full article by clicking here!" or "Check out the promotion by clicking here!"
Use Facebook video to increase the reach of your Posts
Offer Facebook-exclusive promotions on your page
5 Examples of Dental Businesses Driving Traffic With Facebook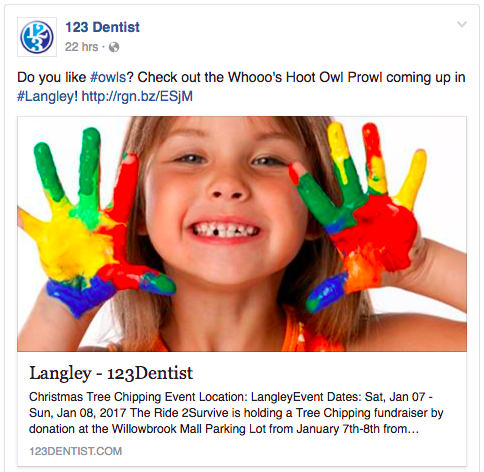 Why this drives website traffic:
Links to the website. Regular content promotion with links back to your website will ensure a steady stream of traffic from Facebook.
Uses hashtags to increase visibility. Incorporating popular hashtags includes your content in the larger online conversation. It also makes your content more visible to people searching under those hashtags.
Bright imagery. Bright colours contrasted well attract attention.
Curiosity. The copy is positioned to create curiosity for readers. Details for the upcoming event must be learned at the website. Only providing a bit of information is a great way to get readers to click and learn more.
Why this drives website traffic:
Uses popular hashtags. Anyone searching for clear aligners in Vancouver will be able to find this post under the hashtag. The use of hashtags increases each post's visibility.
Points back to their website. If this posts interests them, readers can click through and learn more about clear aligners on the Yaletown dentistry website.
Visual. A clear visual of the product offered makes the post more appealing.
Benefit oriented. 20 years of innovation and 4 million smile transformations is strong evidence that Yaletown dentistry knows what they're doing.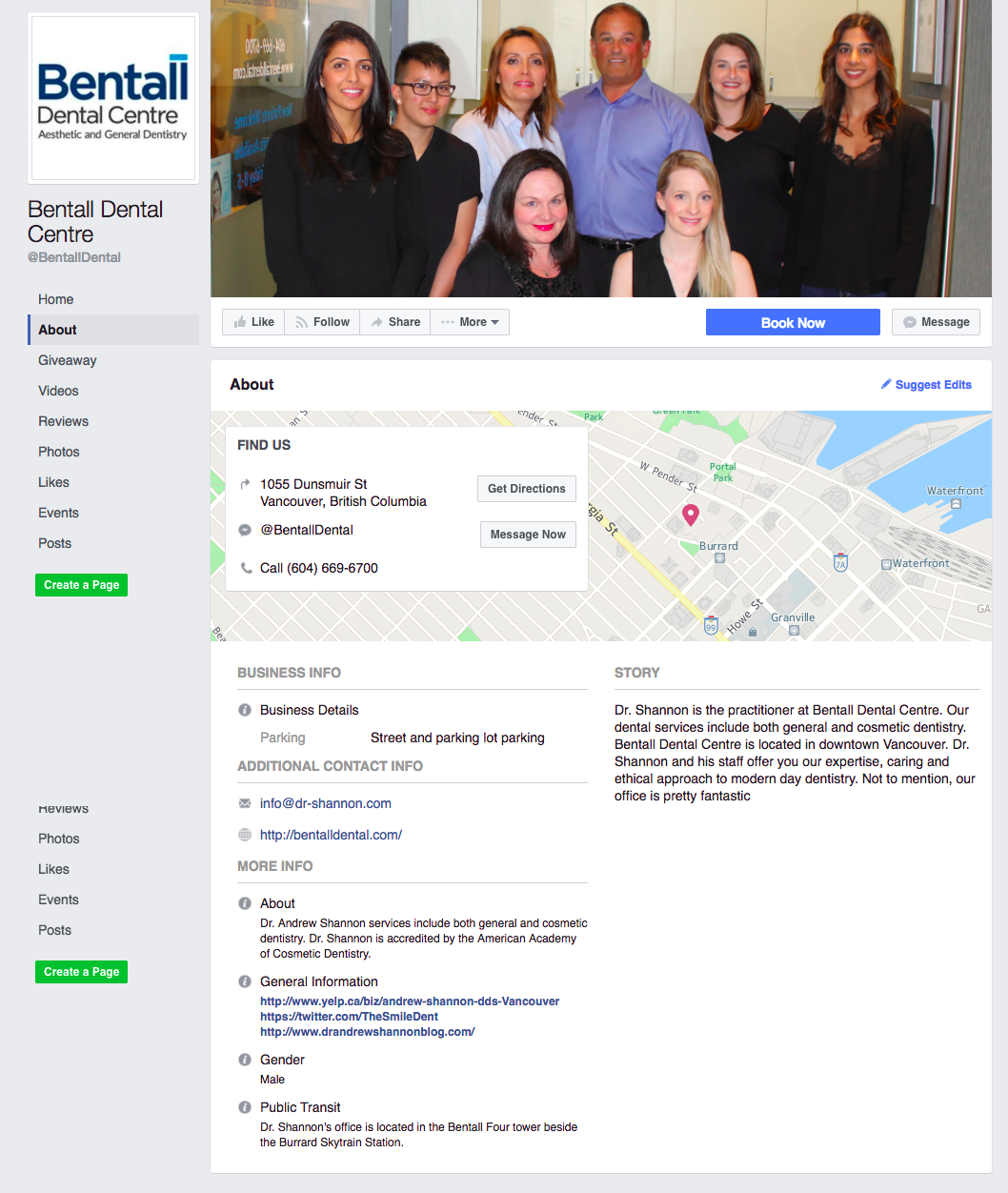 Why this drives website traffic:
Links to owned properties. Links to their Yelp page, Twitter, and personal blog are all there to drive traffic back to their other online properties.
Visual location. Entering in an address publishes a large background map for those interested in visiting your location.  
Contact information. Complete contact information allows visitors to get in contact with you immediately or head to your website to learn more.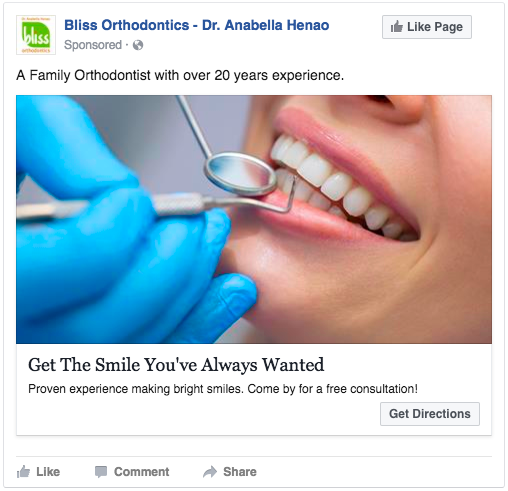 Why this drives website traffic:
Advertising. A part of what has made Facebook so successful is its powerful advertising network. A sharp ad seen in the newsfeeds of your target audience is the best way to immediately drive traffic to your website.
Benefit oriented. A benefit oriented headline has been shown to drive the highest click through rates. "Get the smile you've always wanted" creates an appeal for those who'd like to improve their pearly whites.
Visual and copy connection. Connecting the copy with your visuals creates a stronger communication of your offer. Speaking of a perfect smile and then showing one is a great way to entice action from the reader.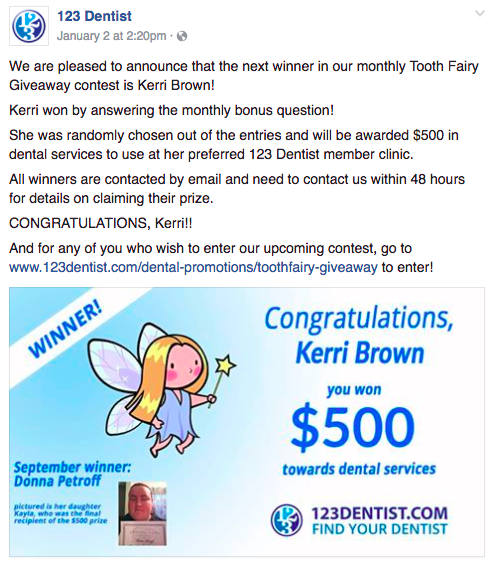 Why this drives website traffic:
Contest and promotion. A fun contest that engages with your fans is an excellent way to send people to your website. $500 in dental services creates an excitement that everyone can get behind.
Engagement. A photo contest for example, creates communication that goes both ways. Participants submit photos that you can use as content in the future and they get entered to win. Constant engagement is important to maintain your follower base and reach new targets.
Branded. Branded graphics and a prize that ties itself back to the business generates more profit and traffic for the brand itself. Those who wish to enter into the next contest can head to the website to join in on the fun.
Twitter
Twitter Stats:
230 million monthly active users
100+ million daily active users
208 followers (on average) per user
Delivers 1 billion unique visitors to website via embedded links/month
Fourth in usage, despite being recognized as second in popularity
(Source: Social Media Marketing Plan)
Even with its recent turmoil, everyone's favourite 140-character social media sharing app is still going strong.
Features like real time tweeting, live broadcasts, and one-to-one communication have kept Twitter in the competition for enterprise attention thus far.
In terms of dental businesses Twitter can be an ideal platform for engaging with present and potential patients. Answering questions in real time for example, can be one way to appeal to folks considering your services.
To get the most out of your Twitter account…
Complete your bio with a clear and succinct description of your business. This means an address, photos, and a link to your website.
Include a branded profile photo and header photo. Professional graphics and branded elements add credibility and trust.
Use your business dashboard to access expanded analytics and scheduling. Go to Dashboard.twitter.com to dive deeper into your account's data and see areas of opportunity.
Follow active users and competitors in your local area. Connect and be social to include yourself in conversations. Get involved to increase your exposure.
Test different post formats. GIFs, video, live streaming are all formats that should be tested with your audience.
General Best Practices to Drive Traffic with Twitter:
Use relevant popular hashtags to increase the life of your tweets.
@Mention influencers or thought-leaders to encourage Likes and Retweets.
Use a free social media scheduling tool to give you quick access to analytics (Buffer, Hootsuite, PostPlanner, etc)
Start with 8 posts per day and work down, measuring what receives the most engagement.
Post multiple times for each promotion/article

For each promotion, write three unique tweets
Share each promotion once a day for three days

If you have a national or international market, schedule posts 24 hours a day to maximize traffic.
3 Examples of Dental Businesses Driving Traffic with Twitter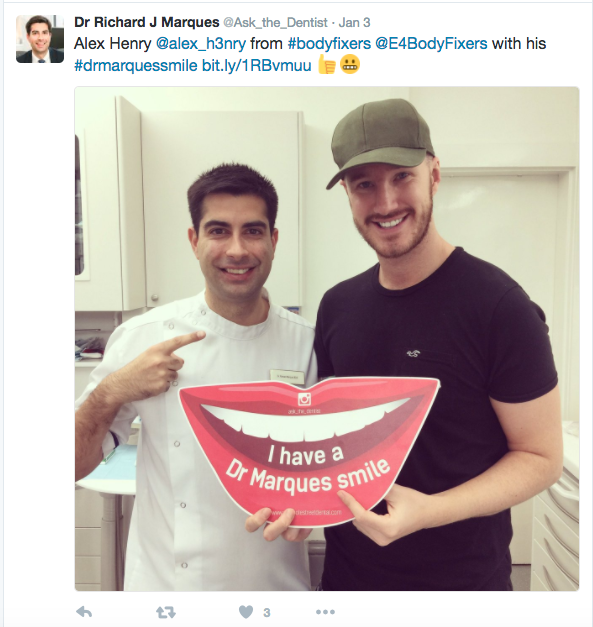 Why this drives website traffic:
Social proof. Displaying real client stories and satisfaction provides social proof for potential clients.
Popular hashtags. Adding content under popular industry hashtags includes your brand in the conversation and increases visibility of your tweets.
Link tracking. Some sort of link tracking software can help you see how the links to your website are performing. For example, tracking click through rate on posts with clients versus posts with blog links.
Why this drives website traffic:
Creative content. Content, especially in the dental industry, isn't the most exciting stuff out there. Get creative with the content you post to receive a stronger reaction from followers.
Imagery. Eye catching imagery goes a long way in Twitter. Strong imagery stands out in the Twitter news feed.
Fun. Keeping your content fun and lighthearted adds a certain relatability to your brand. More familiarity creates a positive relationship and encourages repeat traffic.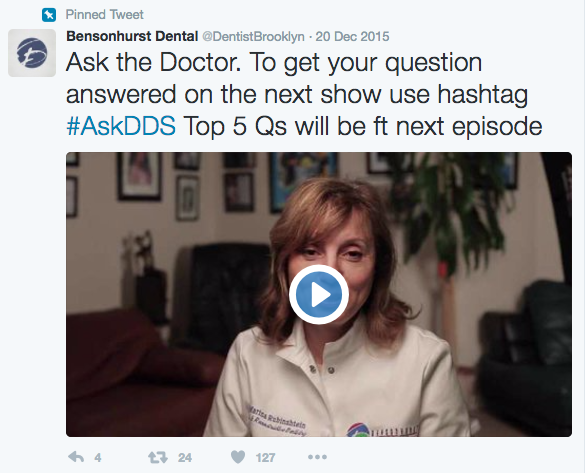 Why this drives website traffic:
Original. A Q&A with a real doctor is a gem of a reason to follow the Bensonhurst Dental Twitter account. Original content that is hard to find anywhere else is a compelling reason to follow and pay attention to a brand.
Interactive. Followers that ask questions under their unique hashtag #AskDDS creates much need interactivity on Twitter.
Video. Video stands out amongst all the other types of content on Twitter. Visual media in general is a great way of engaging your followers and strengthening your relationship with them.
Instagram
Instagram Stats:
500 million active users a month
Demographically skewed towards younger demographics
User engagement rate of 4.21% – far exceeding Facebook or Twitter
40 million photos shared every day
75% of users are outside the US
(Source: Social Media Marketing Plan)
Instagram has come a long, long way since it was acquired by Facebook in 2012. Now over 500 million users strong, everyone's favourite photo sharing app is now the second largest social media network.
In the Instagram world visuals are king and written copy takes a back seat. Users tends to care more about what visual content you share rather than what you have to say about it.
The average demographic of Instagram skews towards a younger audience but like Facebook, the age disparity is decreasing. Still, content should be kept fun and engaging so followers are excited to come back and see your updates.
For dental businesses that want to drive traffic with Instagram…
Keep the content visual. Medical industry Instagram accounts that share detailed photos and videos of their procedures have had massive success.
Create a unique hashtag that categorizes all of your posts. Fans and clients can join in with their own content and use your hashtag.
Experiment with Instagram video. Video is becoming much more popular on Instagram for its entertainment value.
General Best Practices to Drive Traffic with Instagram
Try your best to post in correct Instagram dimensions so your photos are clear and sharp.
List a link in your bio to your website and keep it up-to-date if anything changes.
Go "behind-the-scenes" to add transparency to your business.
Keep content lighthearted and fun.
Encourage followers to post content using your unique hashtag. Show off their new smiles for example.
Capitalize on holidays and current events to post related content.
3 Examples of Dental Businesses Driving Traffic with Instagram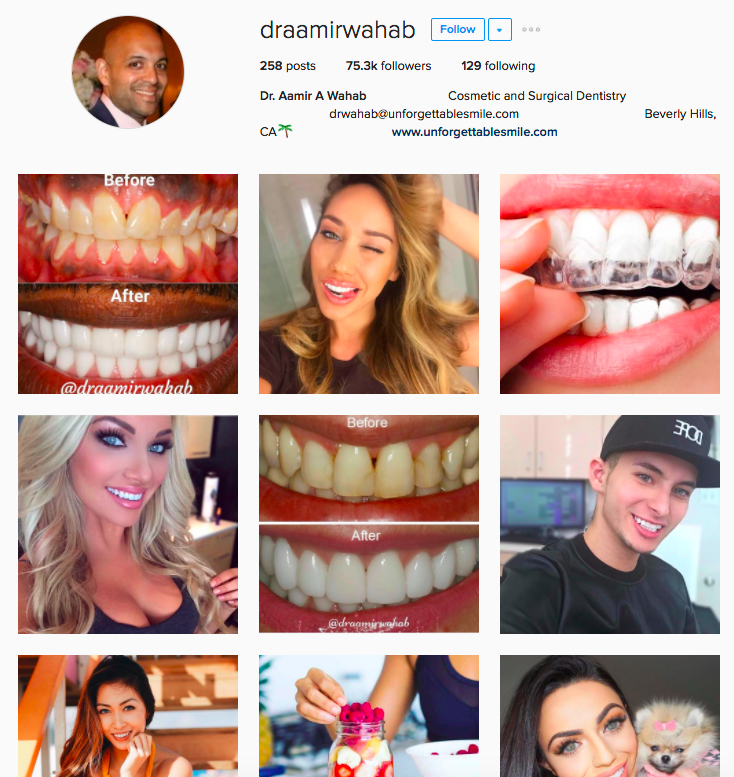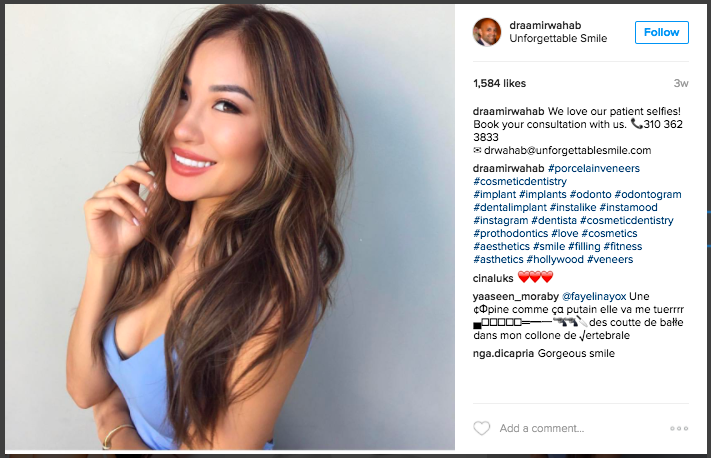 Why this drives website traffic:
Bio link. The only way to send traffic to your website on Instagram is through a link in your bio (not including Instagram Live, advertising, and Instagram Stories).
Call-to-action. To book a consultation give them a call. A little shift to include a call to action can make a huge difference. Without direction or suggestion a reader is more inclined to leave than to take action.
Hashtags. Maximizing hashtags on Instagram is a necessity. Using popular industry and geographic hashtags will rope your content into the popular conversation. Those looking will be able to find your Instagram content much easier.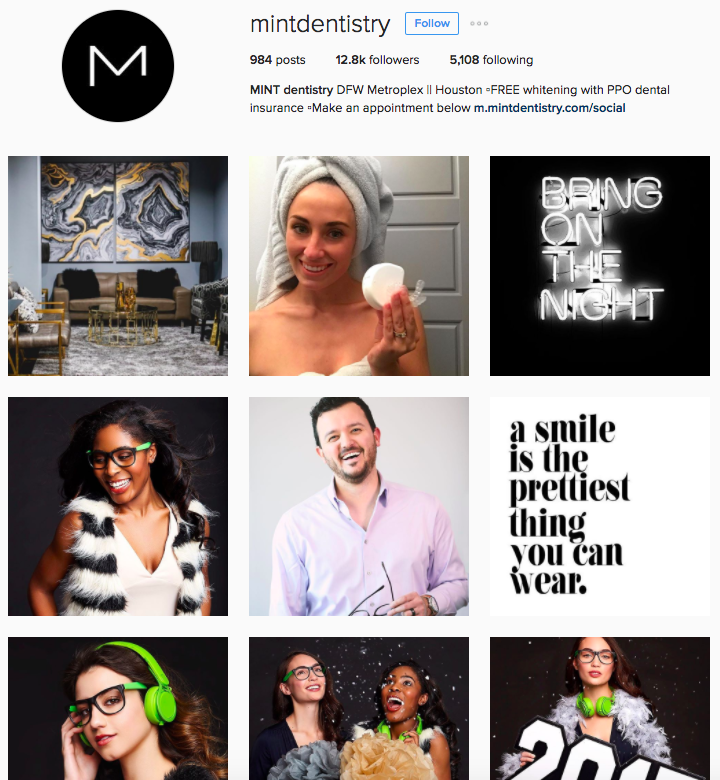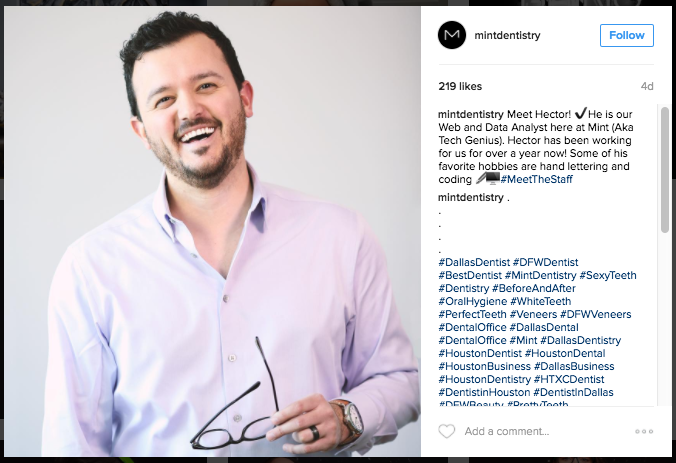 Why this drives website traffic:
Strong visuals. A visual theme on Instagram is important. It tells the story of your business and the clients it serves. A consistent theme ranks high as a reason for following an Instagram account.
Hashtags. Maximizing hashtags is a necessity. Each photo posted can have a maximum of 30 hashtags. Make good use of the opportunity to increase the visibility of your content.
Behind the scenes. Give you followers an insider look at the workings of your business. Introduce employees or show off your office space, doing any of this strengthens your relationship with your followers.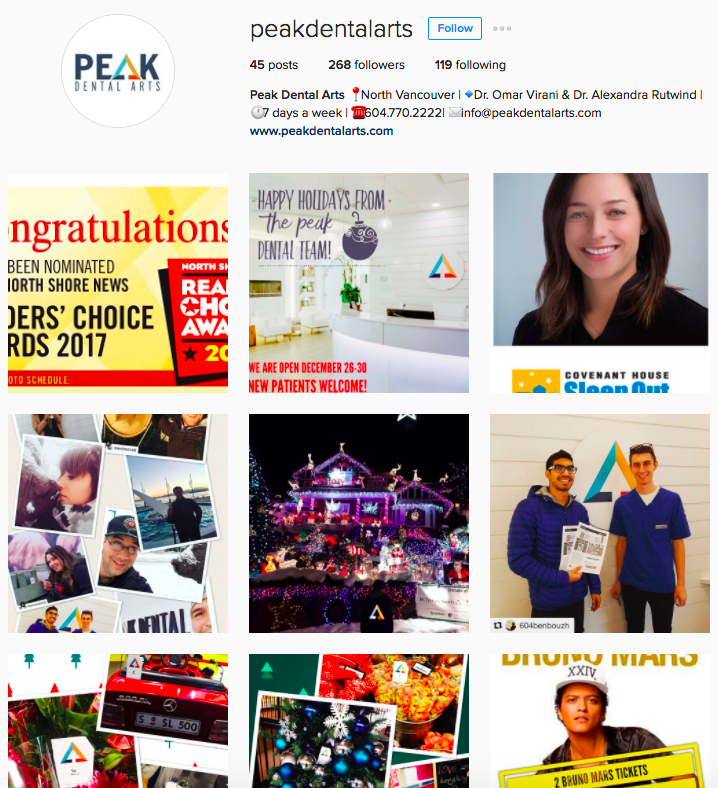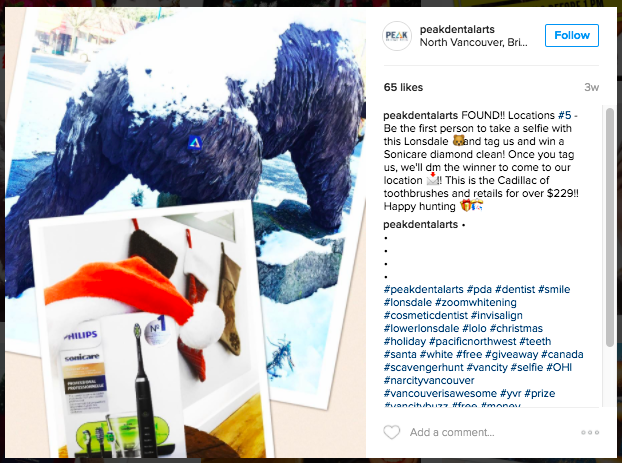 Why this drives website traffic:
Informed bio. All contact information placed in the bio is important, especially for local businesses. Making it easy to get in contact with you should be priority number one.
Contest. Having regular giveaways and contests is an invaluable way to keep your followers engaged with your business. It drives those who want to enter to your website, grows your following, and keeps them engaged with anticipation.
Fun. Social media isn't built for seriousness. Keep things fun and engaging with your followers for maximum engagement. If a followers like your social content then they will likely enjoy your business.
Quora
Stats:
200 million+ accounts created
Approximately 100 million monthly active users
Approximately 50% from the US and 15% from India
50% from the US makes Quora the platform with the highest percentage of US users
(Source: Quora)
If you have a question about anything there's a good chance someone on Quora has an answer.
Quora is the internet's favourite question and answer website. Anyone can post a question and receive an answer from Quora's millions of users.
Topics on Quora range from root canal recovery times to elephant mating rituals so it won't be difficult to find a network of people in your industry on Quora.
Answering and asking questions on Quora with referral thinks to your website is how Quora drives traffic. Being an active participant on Quora can contribute to a large chunk of traffic especially if your responses become a top answers.
Whether or not your answers rack up thousands of views is based on the interaction they receive. More "upvotes" and comments are signs of high engagement and are pushed to the top.
One caveat, since Quora reaches across the world it requires a different strategy for local businesses. Contrasted with every social media network around, Quora shouldn't be a priority. Think of it as a supplemental activity to increase brand visibility. Answering questions and providing value, at best, demonstrate your authority in the industry.
In regards to using Quora for dental business website traffic…
Be authentic. Genuinely try your best to help and provide an authentic answer. The better your responses answer the question the more attention you'll receive. More attention means more referral traffic. Think help first, self-promotion second.
Don't copy and past answers in hopes of publishing more. Your answers will be marked as spam and be removed.
For local businesses you'll have to mention the location you serve and provide a link to your business information.
Look for questions you can answer that involve your local area that way you can point to your business.
Complete your bio and profile description and include your location (e.g. Pug Enthusiast & Family Dentist from Vancouver, BC). Keep communication fun and casual like everything else on Quora.
Read Quora's moderation policy and guidelines to avoid having your answers removed by moderators.
3 Examples of Dental Businesses Driving Traffic on Quora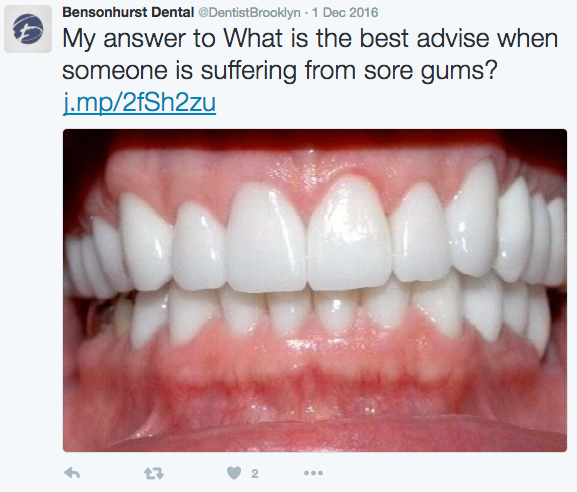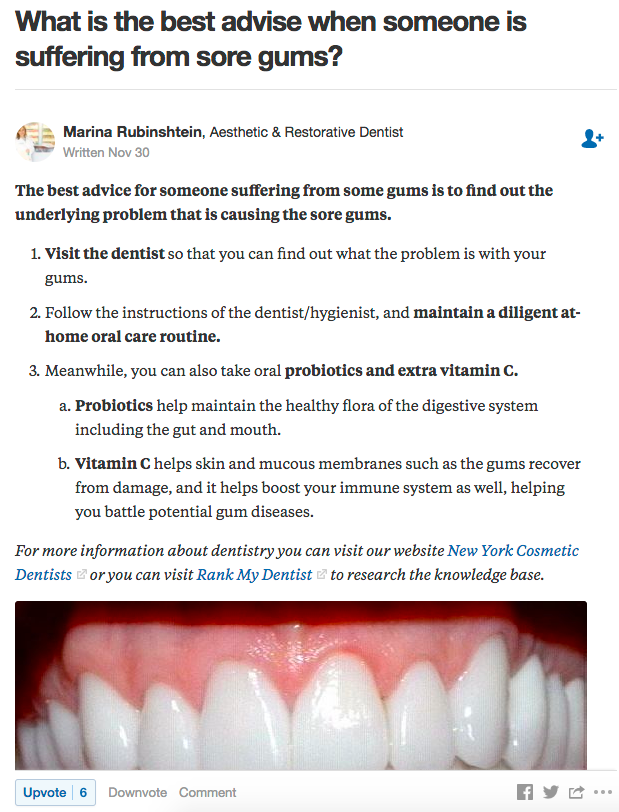 Why this drives website traffic:
Links back to website. Links at the end of all your answers lead readers to your website (provided that they're in your local area).
Cross promotion. Marina makes sure to cross promote her answer on Twitter that way her followers witness her authority and upvote her answers.
Helpful and valuable information. Above all, Marina provides a valuable answer to the question.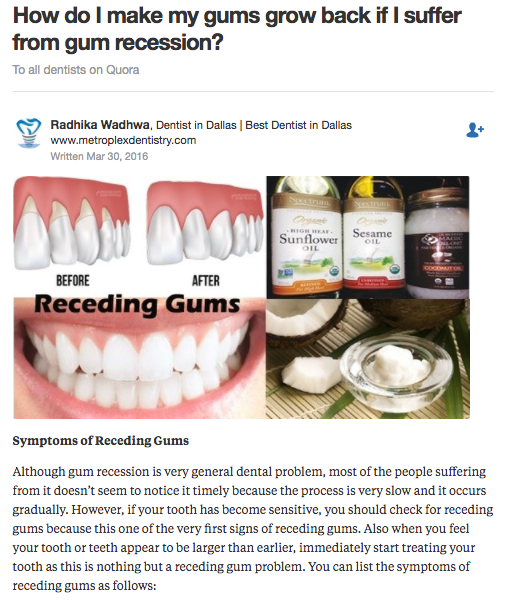 Why this drives website traffic:
Imagery. Big, bold imagery stands out on the Quora feed. Along with a detailed answer, attaching visual aids make the response much more helpful.
Location. A detailed bio is a necessity to catch local website traffic. All readers from Dallas that find value in this answer can head over to Radhika's bio to find his information.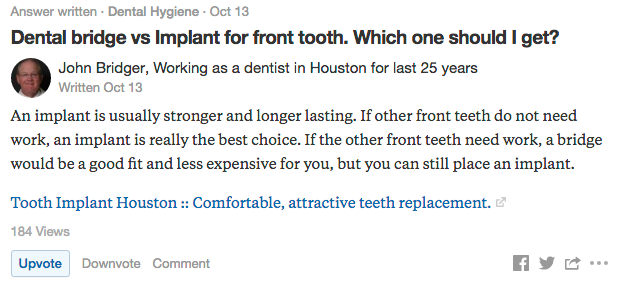 Why this drives website traffic:
Location. John provides his location in his bio for local readers who'd like to get in contact with him.
Outbound link. Providing an outbound link at the end of your answer leads those who find it useful to your website to learn more.
Yelp
Yelp Stats:
Average monthly desktop unique visitors: 77 million
Average monthly mobile web unique visitors: 72 million
25 million active mobile app users
Yelp serves local businesses in 32 countries
US$8,000 average annual incremental revenue generated by a business claiming its free Yelp business page
(Source: Yelp)
There are two types of local business owners: ones that love Yelp and ones that hate Yelp.
We can leave Yelp's business practices for another conversation. I think most can agree that when it comes to researching local businesses there isn't a better place to go to than Yelp. Finding the perfect restaurant, best fitness facility, or a legitimate dentist is much easier this day and age due to Yelp.
With an average of 142 million users visiting Yelp every month it's no wonder why it can make or break some businesses. Hundreds of 5-star reviews will fill reservation books for months while scathing reviews are close to a death sentence.
Information and trust is what takes a Yelp business page from good to great. Updated business information, helpful reviews, quality visuals, and empathetic responses are all markers of an excellent business page. Like with anything else in marketing, the more a potential patient trusts your business the more likely they are to give it a try.
To drive traffic to your website from Yelp…
Register and complete your free Yelp business page. Add your location, business hours, links, etc. Most importantly keep everything up-to-date.
Include professional photography to entice new patients.
Respond and interact with everyone who leaves a review.
Experiment with local Yelp ads and deals.
2 Examples of Dental Business Driving Traffic with Yelp
Here's an example of a fully optimized Yelp business page from Kingsgate Dental here in Vancouver.
Why this drives website traffic:
Claimed. This Yelp business page has been claimed and is currently being monitored by the business.
Informed. All business information, website, hours, address, images, etc, are up-to-date for visitors that need to get in contact.
Reviews. Patient reviews are monitored and responded to promptly. A quick look at this Yelp page tells you this practice cares about its online presence and puts in the work to attract new clients.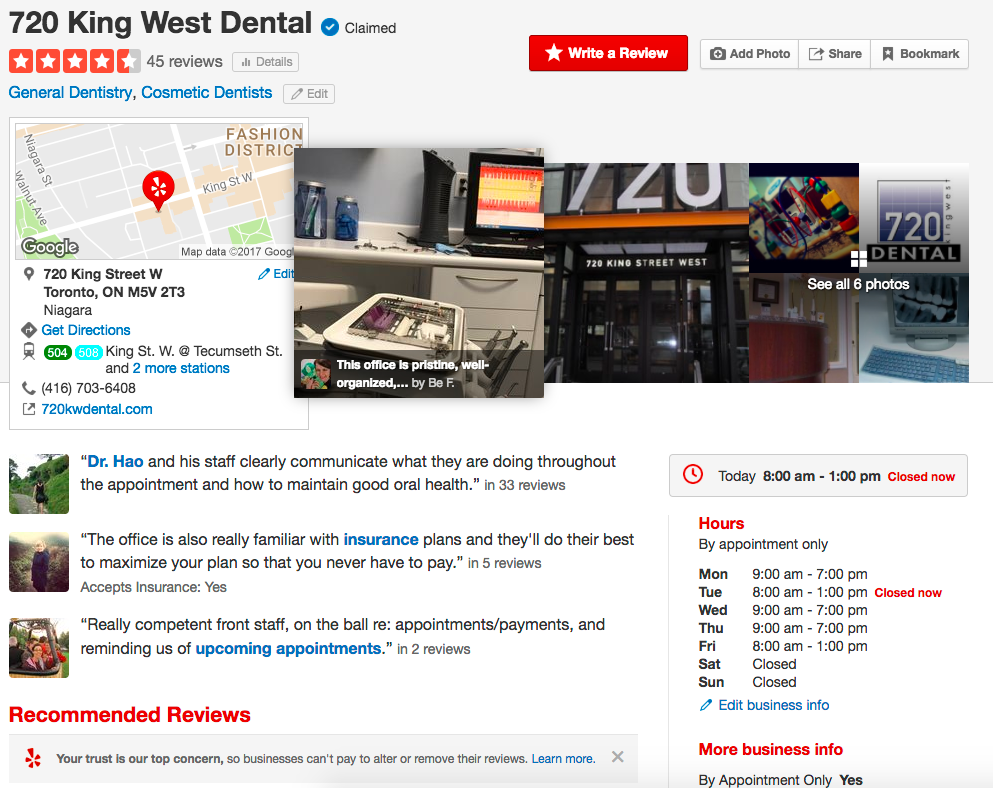 Why this drives website traffic:
Professional. King West Dental makes sure that all the imagery and communication on their Yelp page is kept professional.
Informed. This Yelp business page is complete with business hours, links, information, location, and contact information.
Responsive. All reviews are responded to in a timely matter.