Second Quarter 2023 Financial Results Video Conference Call
Wishpond just released its Q2 financial results for 2023. This was discussed during a live webinar, where Wishpond's CEO and CFO broke down the company's financial performance and business developments. (click the thumbnail below to watch)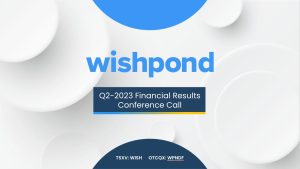 Here are some highlights from the call:
Wishpond achieved Adjusted EBITDA of $0.2 million, representing the fourth quarter in a row of positive Adjusted EBITDA.

Wishpond achieved revenue of $5.6 million in Q2-2023 and expects continued growth and improved cash flows in the second half of 2023.
Ali Tajskandar, Wishpond's Founder and CEO commented, "
We are very pleased with our second quarter results in which Wishpond achieved positive Adjusted EBITDA for the fourth quarter in a row, demonstrating our commitment to profitable growth. During the first six months of 2023 we generated $0.4 million of positive Adjusted EBITDA compared to an Adjusted EBITDA loss of $0.6 million in the first six months of last year; an outstanding improvement of over $1 million, which we are extremely proud of achieving. Wishpond's cost optimization efforts over the past year have contributed to the Company's positive Adjusted EBITDA profile.  Based on the Company's performance and growth momentum in the first half of the year, we expect to deliver strong results for the remainder of 2023.
We maintain a positive outlook for the second half of 2023, with continued sales growth and improving cash flows."