The Complete Guide to SEO for Fitness Centers
So far, we've covered social media, Facebook Ads, and Google AdWords. There's just one primary strategy left to cover when it comes to driving traffic, and it's a big one:
SEO.
You've probably heard about it. You may even have thought about doing it for your business. But how do you get started?
Well, to answer that, I'll first answer the question…
What is SEO?
SEO stands for search engine optimization – essentially, building your website in such a way that it's more visible to users of search engines like Google, Yahoo, or Bing.
Why is this so important?
Get this: Google processes 40,000 searches a second. Hundreds of thousands of people search for terms like "gym", "exercise", and "workout" monthly – that's a bunch of traffic you can leverage to bring new members to your business.
Unfortunately, there's also a joke that the best place to hide a dead body is the second page of Google. Basically, few people ever click past the first page – so you want to make sure your business ranks as highly as possible for relevant keywords on search engines. Ranking on the first page for your targeted keywords will bring you relevant traffic, and with it, potential customers.
When it comes to doing SEO for your fitness center, you'll want to focus most of your efforts on a branch of search engine optimization called local SEO.
How does local SEO work?
Local SEO allows you to promote your fitness center to local customers who are looking for a gym or yoga studio (or what have you) like yours.
It's actually a bit easier to tackle than general SEO. Ranking highly for "yoga studio in Nashville" is much easier than ranking for "yoga studio",  and traffic means nothing if it's not coming from people who could realistically become customers.
Google ranks local website results based on three key factors: relevance, distance, and prominence.
Relevance refers to how closely a local listing fits what a user is looking for.
Distance is how far the local listing is from either the location in the search ("gym in New York") or from the searcher.
Prominence is how well-known a business is – for example, famous landmarks or well-known store brands are more likely to show up than a smaller, newer, less-known local business.
Now that we have a basic understanding of local SEO, let's go over the most important things your business can do to optimize for it.
Setting up your "Google My Business" listing
Creating a Google My Business page might be the single most important thing you can do to optimize your business for local SEO. It ensures your business shows up "front and center" when people search for it on Google – and that's important, seeing as an overwhelming majority of people use Google as their search engine of choice.
Here's how a fitness center with Google My Business looks when you search for it: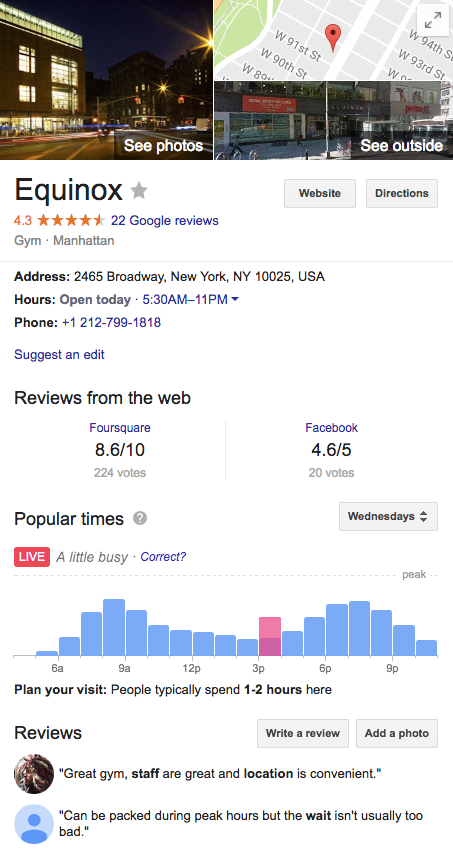 As you can see, it's quite different than a regular Google search result.
Google My Business results provide business information including photos, location, hours (and activity), contact information, and reviews from sites like Facebook, Google, and more.
Creating a My Business listing for your fitness center makes it as easy as possible for potential customers to find it, maximizing the chances they'll book a tour or you'll get a new member. If you have more than one location, create a new listing for each of them.
Once you're set up, you're not done yet. There's still a few things you can do to maximize your business' chance of ranking highly on Google.
Here's a few best practices:
Enter complete information: Make sure you fill out as much information as possible on your My Business profile, including your physical address, phone number, and category. This makes it easier for Google to match your business with relevant searches, increasing the likelihood you'll show up in a potential customer's search.
Verify your location: Google provides several verification methods to prove your business is where you say it is, which increases the chances it'll show up on Google Search and Maps.
Update your hours: Make sure your opening hours (and holiday hours) are up to date on your My Business listing. This lets potential customers know when you're open for business and improves the reliability of your listing.
Respond to reviews: Read and respond to the reviews your customers leave about your business. This shows your customers that you care about them; consistently receiving high-quality, positive reviews from happy customers will help your business' image and increase the chances it shows up on Search.
Add photos: Uploading photos to your My Business listing helps you show potential members your facilities, equipment, and amenities, increasing the chances that they'll come in to start a trial or join as a member.
NAP and Schema markup
Don't be alarmed if you haven't seen these words before. They're simple principles that will help bump your website up the the search rankings and make sure they're being indexed correctly.
NAP consistency
As much as I love dozing off for a couple hours on a Saturday afternoon, NAP refers to name, address, and phone number. To maintain consistency, you want to ensure your business name, address, and phone number are the same across your website, in content and formatting. Make sure your NAP is present on all of your pages – the best place for it is in your footer.
For example you want to use either "123 – 4567 Name St." or "4567 Name St. Suite #123" in all instances of your address online – never use them interchangeably. This goes for your business name and phone number, as well.
You'll also want to make sure your NAP appears the same across different websites, as well. Each mention of your NAP on another website is called a citation, and local search rankings are heavily affected by citation quantity, quality, and consistency. Basically, the number of times your NAP is mentioned, the quality of the sites citing your NAP, and the consistency of the NAP itself all improve your fitness center's chance of ranking on the first page.
If you see your NAP mentioned on another site incorrectly, take the time to reach out to them so they can correct it.
Schema markup
CREATE GENERATOR
Schema markup is similar to NAP; it's another method of improving the quality of your business information to increase your website's search rankings.
To explain it simply, Schema is a series of HTML tags attached to your NAP information that help search engines identify what it is and attach it to your business. Basically, it's an invisible sign that tells Google "4567 Name St. is a street address", or "604-123-4567 is a phone number".
You can use Schema to mark up other portions of your website, like reviews and testimonials, but I'd recommend marking up your NAP information at the very least. It helps your site rank better for keywords that are relevant to it, and helps search engines know what information to use to answer questions like "[gym] phone number" or "[yoga studio] address".
I know it can be hard sometimes to see the concrete benefits of SEO, but trust me, they're there – and you'd be wise to take advantage of them to bring new business to your fitness center.
NAP and Schema markup are also two crucial parts of citation building. Let me explain…
Building Citations
I previously explained what citations are: mentions of your business with another piece of business information (like your phone number or address.
Again, these are important because they help boost your site's search engine rankings – so having a number of citations from quality sites is key to SEO success. Luckily, many of these sites allow you to build your own citations.
Here's a few best practices for citation building:
Build a separate web page or subdomain for each of your physical locations. This allows you to establish a new NAP for each location, as well as new Schema markup.
Build a new set of citations for each of your physical locations, linking to the unique page for each location.
Based on your specific business type (e.g. gym vs. yoga studio vs. dance studio), look for sites that can provide citations more relevant to your business.
Based on your location, look for sites or blogs that can provide citations to help you target local customers.
Look through your citations every so often – if there are any that are incorrect (even if it's just formatting), reach out to the site and get them to amend.
A list of sites you can get started with to build citations:
If you're looking for local citation sources, try searching for "citation sources [city]". If you're based in the U.S., Moz has built a handy list of citation sources by U.S. city. Take some time to build citations and you'll see the traffic roll in.
Gathering Reviews
Something related to building citations is gathering reviews for your business. They're important in building credibility and can also be a big booster for SEO.
Though reviews can be pretty straightforward, here are some review best practices:
Make sure you cover the big platforms like Google, Yelp and Facebook.
Look for industry or geography-specific review sites to make sure your business is listed to be reviewed.
Before asking customers for reviews, check for review guidelines on each platform you're listed on.
Don't set up a tablet or laptop at your business to ask for reviews. Multiple reviews coming from the same IP address can get them filtered away.
Don't forget about gathering reviews as time goes on – you want to be getting a steady stream of reviews from (hopefully happy) customers.
Respond to positive reviews with thanks – don't used a canned response, either.
Negative reviews aren't the end of the world. Respond to them professionally and with customer happiness in mind. Use these reviews as benchmarks for the quality of your business.
Simple Website SEO
The final piece of this guide is a simple overview of optimizing your webpage for SEO. It helps your webpage rank for things like "gym in Montreal" or "personal training San Francisco".
I've put together a quick list of things you can do to make sure you capture as much organic traffic as possible:
Have a "contact us" page with the NAP of each of your locations.
Put the NAP of each of your locations in the footer of your website (if you have more than ten locations, maybe put together a separate page for this).
Make your phone number highly visible on your webpage, and make sure mobile users can click it to call.
Create separate pages for each of your locations, with location-specific contact information on each of them.
Build and submit a sitemap to Google to help it (and other search engines) learn more about the content on your site.
Make sure your website is AMP (Accelerated Mobile Pages)-compatible. This feature helps mobile users load pages more quickly, and is built in to most website platforms (like WordPress).
Target specific keywords in your page titles. Including things like "Vancouver personal training" in the titles of your website pages helps it rank for that keyword. Check out AdWords' Keyword Planner to do research on the optimal keywords for your business.
Target specific keywords in your headers. Including keywords in your <h1>s and <h2>s helps search engines understand what your pages are about.
Include testimonials (with keywords) on your website. Not only are these great for SEO, they help website visitors make the decision to join your fitness center.
These are some of the most impactful things you can do to help your site rank for the keywords you're targeting.
Conclusion
There you have it – a complete beginner's guide to SEO for your fitness center. Though it can be tough to understand, SEO can be a huge traffic driver for your business. It's an extremely effective way to draw in potential customers who are interested in a fitness center like yours, and it's certainly worth your time.