The Complete Guide to Contests for Gyms
If you're looking to generate leads to get more members for your fitness center, running a contest is undoubtedly one of the best ways to do it.
Why are contests so great?
Contests are extremely effective at connecting your fitness center with customers in your target market who might be interested in the products and services you offer. They drive engagement by rewarding entrants who interact with your business on social media, and can be a great source of user-generated content for use in future marketing campaigns.
On top of that, anyone can run a contest to achieve great results, from the new yoga studio in a small town to the multi-location gym in a big city.
Most importantly, they're lean, mean, lead-generating machines, perfect for building a list of people you can turn into members.
In this chapter of the guide, we'll look at the different ways you can use contests to find success for your business.
Let's go!
Types of Contests
There's a few different types of contests you can run, depending on your goals. I'll go over the characteristics of each here:
Sweepstakes
Sweepstakes are great because they're easy for people to enter – awesome if you're looking to achieve a high conversion rate and generate as many leads as possible from the traffic you generate.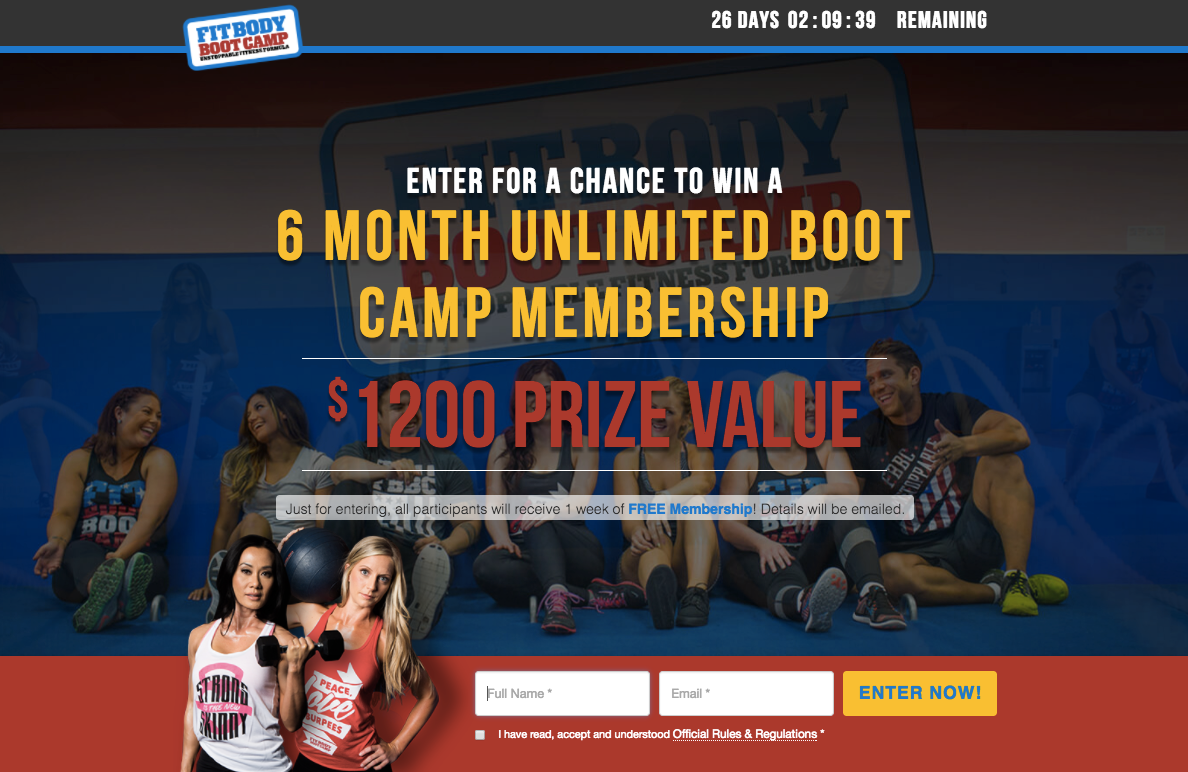 Usually, all someone needs to enter a sweepstakes is an email (and maybe a name). Having a low barrier-to-entry means you'll have an easier time getting people to enter compared to other contest types.
Photo Contest
Running a photo contests is an incredibly engaging way to generate leads for your fitness center. People enter by submitting a photo – what kind of photo you ask them to submit is up to you (you might consider a fitness transformation photo, a photo of your entrants in their favorite yoga pose, or even a photo of people wearing one of your fitness apparel products).

Photo contests are great because they allow you to collect user-generated content that's related to your brand, which you can use in other marketing initiatives.
Referral Promotion
Referral promotions are similar to sweepstakes, but they increase engagement and reach by incentivizing entrants to ask others to enter, as well. People enter in the same way as a sweepstakes (by providing their email, etc.), but are given a contest URL after entering that they can share with friends and family. If their connections enter the contest using this URL, the entrant receives extra entries, increasing their chances of winning the contest.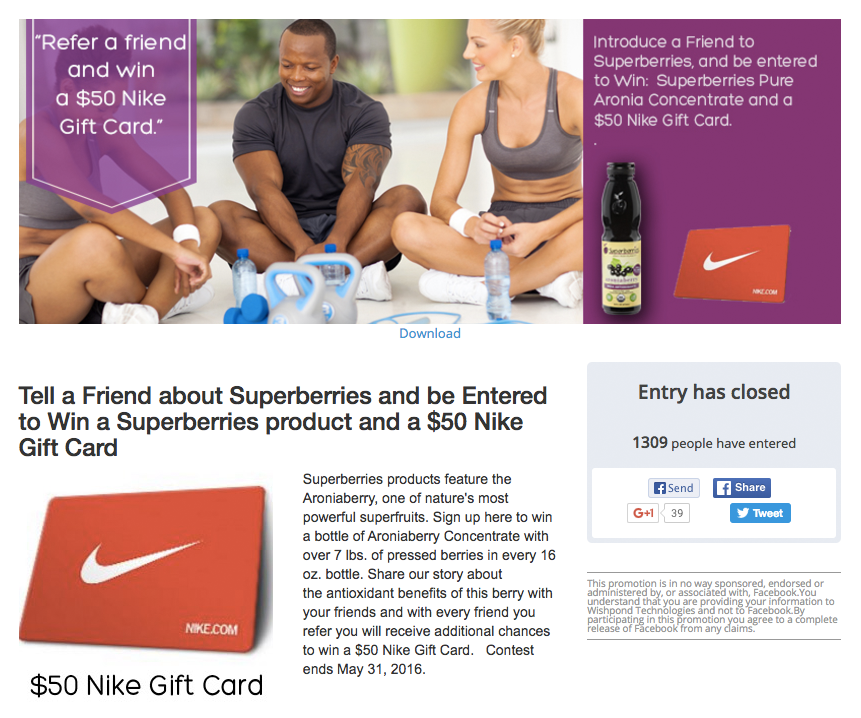 Coupon
Though they're not technically contests, running a coupon promotion is an awesome way to grow your membership because it drives people directly to your products or services. For example, you might offer a coupon for a free 7-day trial to your gym, or 50% off a personal training session.
Basically, coupons are great because they're easy to distribute, because it's easy to communicate their value (using percentages or dollar values) and because they lower the barriers that might exist when trying to get people to join your fitness center.
Prizes for Contests
Let's face it – as exciting as your brand might be, people enter contests for one reason: they want to win something. To maximize the number of entries your contest gets, you want your prize to appeal to as many people as possible – as long as those people are potential customers.
A contest "don't" is giving away any prize that's universally appealing – something like an iPad or a lifetime Netflix subscription. Though you might think that's the best way to get people to enter your contest, it's also the best way to get a bunch of leads who aren't at all interested in your business.
Instead, choose a prize that's directly related to your business and the services it offers. The best prize is your product – for example, 10 free yoga classes, a month of personal training, or even a gift card, if you have a variety of fitness options or classes.
This ensures everyone who enters is directly interested in your business and the services it offers – you know all of your entrants are people who could potentially become customers in the future.
Another option is to choose a prize related to the specific fitness segment your business lies within. This might be, for example, a yoga mat and water bottle for your yoga studio or wrist wraps and an Inzer belt for your powerlifting gym.
Whatever you decide, make sure you do your best to pick a prize that filters out people who won't be interested leads – this ensures the list of leads you generate from a contest is of a high quality.
Awesome Fitness Center Contest Examples
1. My Sports Clubs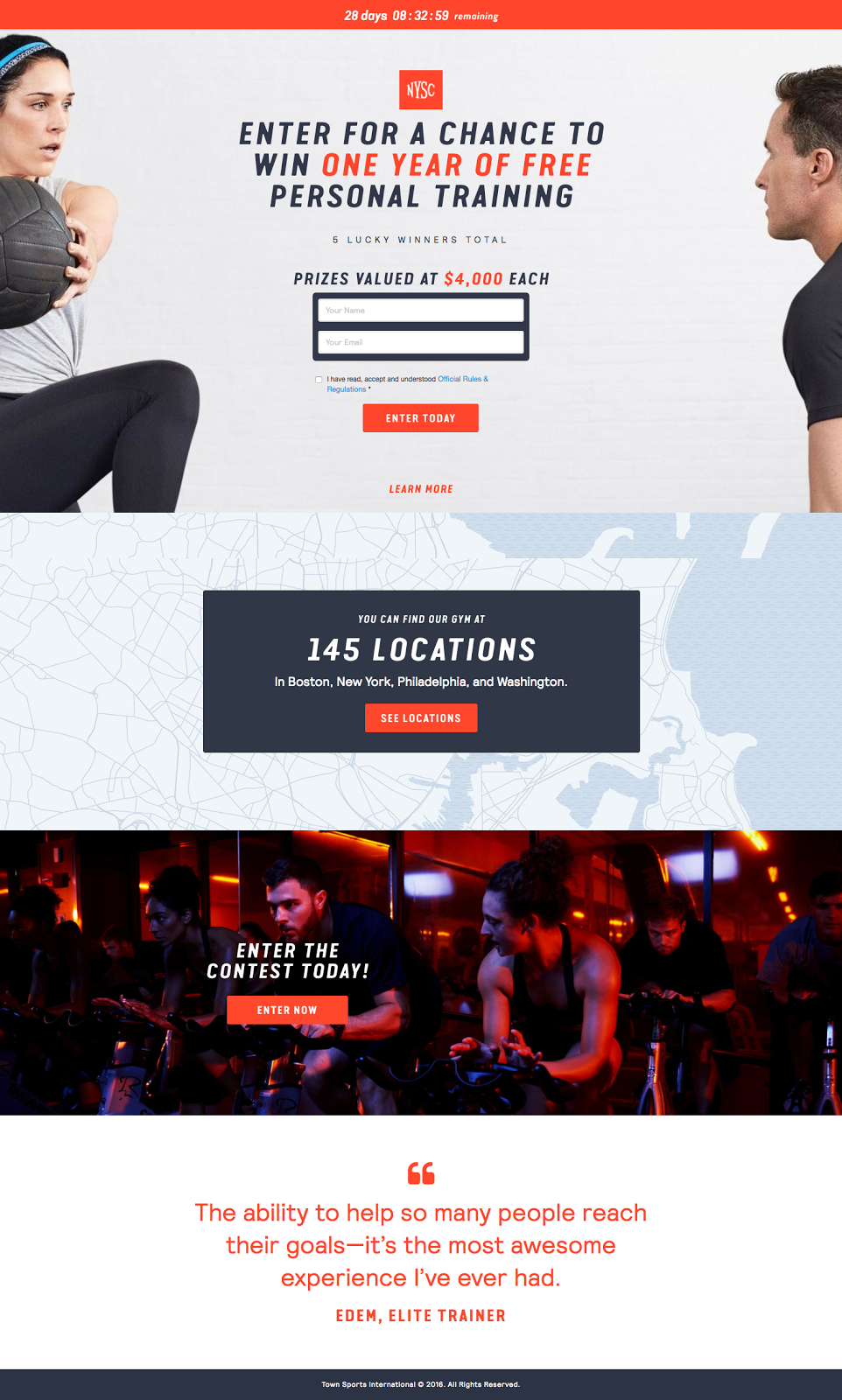 Why this contest is awesome:
My Sports Clubs ran a sweepstakes to promote their fitness clubs in New York (they also have locations in Boston, Philadelphia, and Washington). Like most fitness centers should, they targeted locally – this is important because it means they won't be awarding their personal training prize to someone who isn't even able to claim it.
At the top of the page, you can see a "hello bar" that shows contest page visitors how much time they have left to enter. This inspires a sense of urgency, which can jolt viewers out of indifference into acting and entering your contest.
Further down, they highlight the value of their prize ($4,000) which is a great way to make your prize appealing in more "concrete" terms to potential entrants. The prize itself is great – it's personal training at My Sports Clubs, meaning entrants who want to win the prize will naturally be open to joining MSC to begin with. I also like that they only ask entrants for their name and email, minimizing the barriers to entry that entrants may face.
Finally, The testimonial from one of MSC's trainers at the bottom of the page is awesome – it's a form of social proof that eases customers into being open to entering a contest, and (better yet) joining My Sports Clubs as a full-time member.
2. Yovada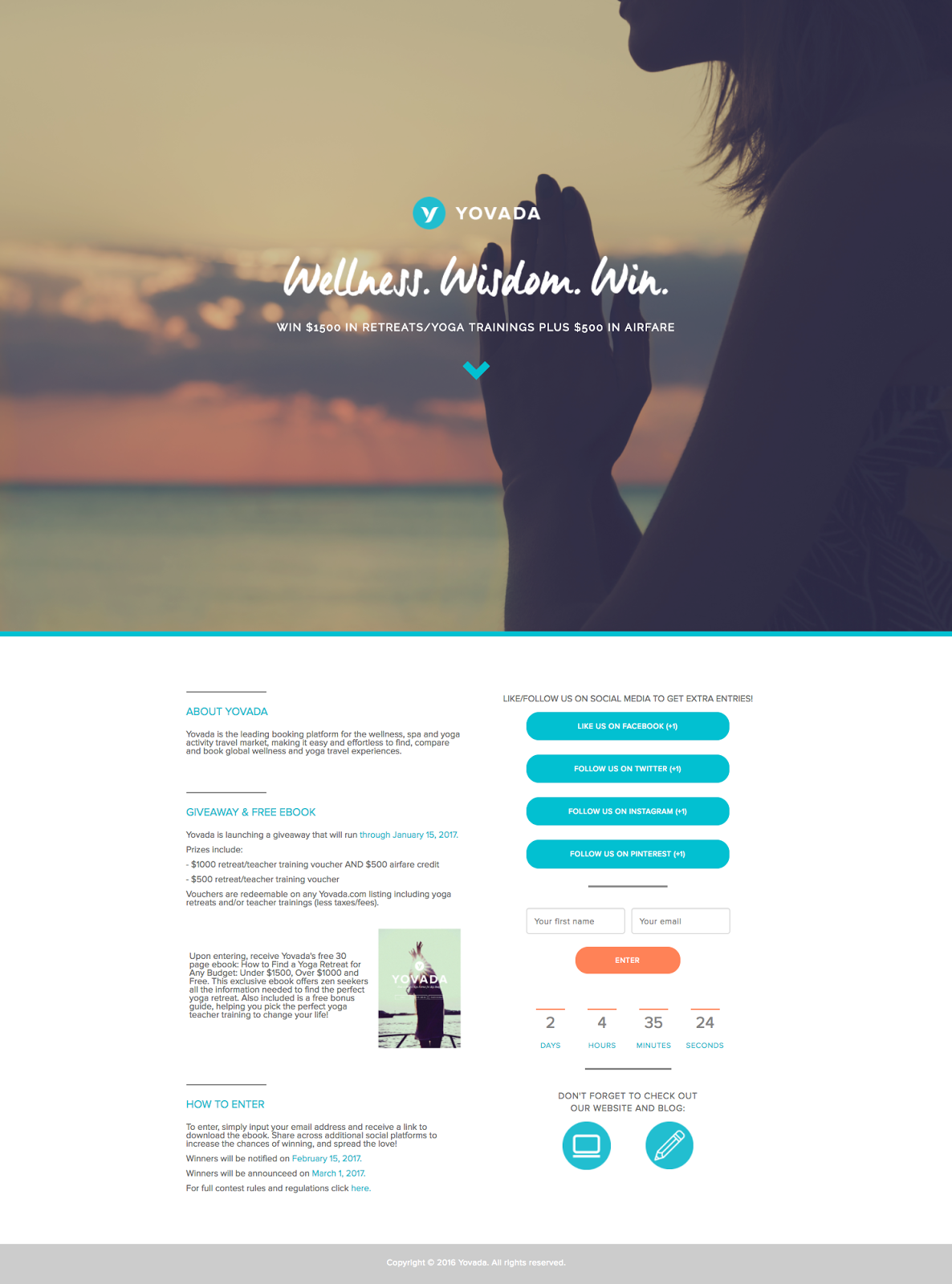 Why this contest is awesome:
Yovada is a bit of different case when compared to your typical fitness center – think of their product as an Airbnb for yoga retreats.
The "above-the-fold" portion of the page is great because it highlights the brand, the contest tagline ("Wellness. Wisdom. Win.") as well as the prize, including its value. Having an image that clearly conveys a very calm, "yoga" feeling helps prime the reader for more information related to the contest below.
I like that Yovada explains their product and service in their first text section – it's a relatively unknown platform, so providing a product description makes it easier for potential members to understand the brand's value proposition.
You can see in the next section that Yovada has chosen to give away a 30-page ebook to all entrants. This is an awesome strategy to increase conversion rates – it reassures contest page visitors that they'll get something for entering. Basically, Yovada makes sure all of their entrants are winners with this contest – and who doesn't like that?
As you can see, Yovada also added social sharing actions – essentially, people earn extra entries by interacting with Yovada on Facebook. This is great because it helps increase the contest's reach, increasing engagement and helping the contest connect organically with more potential entrants.
3. Form & Fitness
Why this contest is awesome:
Form & Fitness is a 24-hour gym that ran a contest to promote their gym with their 8-week "Transform-U" program as a prize.
The timer at the top is a constant reminder to page viewers that the contest is only running for a limited time; this creates urgency, which helps to get people to enter. On top of that, this contest is topical – it urges entrants to "start your new year off right". Being topical is a great way to make your contest feel more relevant to potential participants.
I like that Form & Fitness is clearly targeting a certain type of customer with this post: people who want to lose weight. This is clear in the bold text talking about the prize ("WEIGHT LOSS PROGRAM") – it's perfect for the many people who make a New Year's resolution to shed a few pounds.
Further down the page, Form & Fitness talks about their Transform-U Program in depth, showing potential entrants exactly what they're entering to win. This is great because it reduces uncertainty – people who might be new or uneasy when it comes to fitness can see what the program comprises, and people who are curious to know more can see the many features and benefits the program offers.
Finally, the page features a testimonial from a happy Transform-U program participant. I like that Form & Fitness chose a quote that highlights a lifestyle change, as opposed to emphasizing the program itself. This quote suggests that the Transform-U program gives participants the knowledge they need to establish and maintain a healthy, sustainable lifestyle.
4. Embody Pilates
As you can probably guess, Embody is a yoga studio that specializes in pilates. They ran a contest with a grand prize of a "Transformational Membership Package" to promote their studio.
From the get-go, we can see that featuring some sort of countdown timer on the page is a common trend, with good reason.
I also love the main image featured on the page. It's big and bright, and does a great job of showing off Embody's beautiful studio space, as well as some of its equipment. One thing I'd say about this image, though, is that it would've been great if it was framed in such a way that the text could be placed to the right of the model. Having the model point towards the copy would have provided a directional cue to direct focus where it's required.
I like that Embody highlights the value of their prize package, to give potential entrants an idea of the value offered in this contest. Embody also features a corner overlay on the bottom-right of the page, which does a great job in reiterating and reinforcing the value of the prize.
Embody further expands on what the prize includes in the section below, which helps to qualify the exact benefits of the prize.
Overall, the page is good, though I do think the "quote" at the bottom of the page is rather ineffective. Though it praises the owners and their dedication to their clients, it doesn't appear to be from an actual customer; this makes it feel a little disingenuous, which could hurt conversion rates.
Promoting Your Contest
When looking to promote your contest to potential customers, you might jump to social media or your email list. Though these are great place to start, remember that the main purpose of your contest is to generate leads, and eventually, turn these leads into customers.
Chances are, a majority of the people who are following you on social media or have subscribed to your email newsletter are already customers. Ideally, we want your contest to reach new people who either haven't heard of your fitness centers, or have interacted with it in the past but have not since become members.
If I had to pick one advertising channel on which to promote your contest, I'd say Facebook Ads is your best bet. It allows you to drill down on audience interests to help you find the most relevant, best-qualified people to serve ads to – which means higher conversion rates and more members.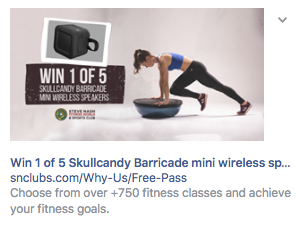 Though we've covered Facebook Ads extensively in another chapter of this guide, here's a few best practices for running them for your contest:
Highlight your prize: The easiest way to get potential customers interested is to show them what they could win.
Match your ad copy to your contest page: Maintain consistency by matching the copy on your Facebook Ad to the text on your contest page.
Include the value of your prize: I recommend including the value of your prize at least once on your ad, in the ad image or in the copy below it.
Target precisely: Don't just target people who are interested in fitness – target people who are interested in a specific branch of it (like weight loss or pilates), or use a Lookalike Audience.
Be topical: Capitalizing on high-fitness seasons like New Year's and summertime can give your contest that extra push it needs.
Check out Facebook Ads for Fitness Centers if you want to dive deeper into running Facebook Ads for your business or contest.
Contest Follow-Up
There's a few things you can do during and after your contest to keep your leads engaged before you begin nurturing them with an email drip – here's three of the most important:
Send a "thanks for entering" email: As soon as a participant enters, send them an email thanking them for entering and urge them to share the contest with their friends and family (this works especially well if you can reward them with extra entries for sharing). This is also a great time to direct them to your website or a landing page in case they want to learn more about your business.
Send a coupon to non-winners: Once the contest is over, you'll have a happy winner… and dozens (or hundreds, or thousands) of less-than-pleased participants. You want to make sure everyone who enters your contests ends up fulfilled in some way. A great way to do this is to send them a coupon or discount on something from your fitness center; for example, a free pass for a yoga class, or 30% off an annual membership – something that keeps them interested in your business so you can turn them into members.
Move entrants to an email drip: The warmest your contest leads will be is right around contest time – the last thing you want to do is leave them for weeks or months without communication and allow them to forget about your brand. Setting up an email drip for contest entrants before you run your contest is a great way to keep leads warm and increase your chances of converting them into members. If you're not quite sure what that entails, check out this guide's chapter on email drip campaigns.
Remember, you want to be proactive with the leads you generate from a contest. It's not worth giving away hundreds of dollars in prizes if you don't make the effort to turn these leads into members.
Conclusion
There you go – a simple guide to running a contest for your fitness center. It's one of the best ways to promote your business, increase social engagement, and most importantly, get more members.
Whether you're a yoga studio or a CrossFit gym, running a contest is a surefire way to attract interested potential customers to your business.