How to Use Social Media to Drive Website Traffic for Fitness Centers
We could talk endlessly about the many benefits of using social media for your business.
It's one of the best ways to connect with your customers, increase engagement with your brand, and promote your business. Social media encourages – and rewards – interaction, and helps your business' reach to spread quickly and organically.
Though it can take some time, using social media smartly and strategically can help you reach more people, drive more traffic, and get more members.
In this guide, we'll look at the best social media platforms for your fitness center – including Facebook, Twitter, Instagram, Quora, and Yelp – and dive into the best ways to get the most out of each of them.
Here we go!
Facebook
Get this: nearly a quarter of the world's population uses Facebook.
If that's not a testament to the sheer reach of this platform, I don't know what is.
The world's biggest fitness centers use Facebook as the pièce de résistance of their social media marketing strategies – and with good reason. It's arguably the best way to build your brand on social media, and it's even more powerful when you take advantage of Facebook Ads.
Though Facebook has taken steps lately to make it tougher for businesses to show up on users' News Feeds, it's still important that your fitness center has a Page. Besides being a place to share content and promotions with your members, it's a platform that holds information including business hours, locations, reviews, and more.
If you're going to use social media to drive traffic to your website – and, more important, customers to your business – Facebook is the place to start.
Facebook Best Practices
Post consistently, but make sure you post on weekends – posts receive 32% higher engagement
Include CTAs in your posts (e.g. "See the full workout on our website") to direct social traffic to your website or blog
Utilize other forms of content (video, 360 video, Live video, etc.) to improve your ranking on fans' News Feeds
Offer Facebook-exclusive coupons and promotions to incentivize people to join
Let's look at a few examples of fitness centers on Facebook who are doing it right.
Equinox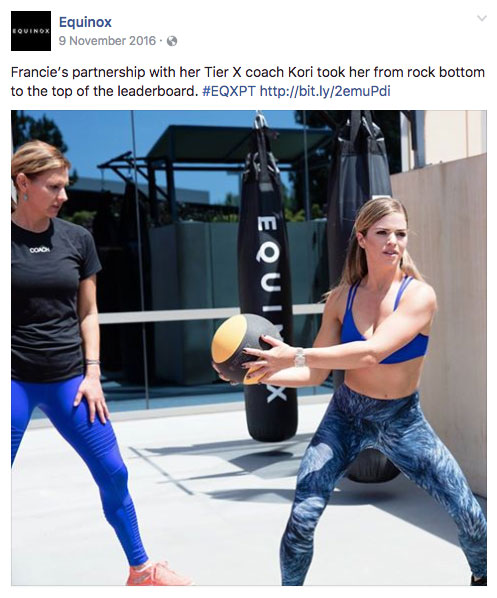 How this post drives traffic:
The image is striking and conveys what training at Equinox is all about; it shows an athlete working hard, their trainer (with a shirt that's clearly labelled "coach"), and some strategic Equinox branding.
The post features an athlete (horseback rider Francis Looke), which highlights Equinox's involvement in the training of serious athletes. Having an influencer within the industry endorse Equinox increases its credibility and is good social proof for the brand.
The caption is short, succinct, and promotes a specific service that Equinox provides. The caption presents value that is results-driven, which is perfect for a fitness-related business. My only qualm is that Equinox could have provided a CTA of some sort ("learn more") in reference to the blog post.
Finally – and most importantly – Equinox links to a blog post in the caption. This pulls traffic to a landing page that highlights Francie's athletic journey, which clearly communicates the benefits of Tier X coaching and includes a CTA for people to learn more about it.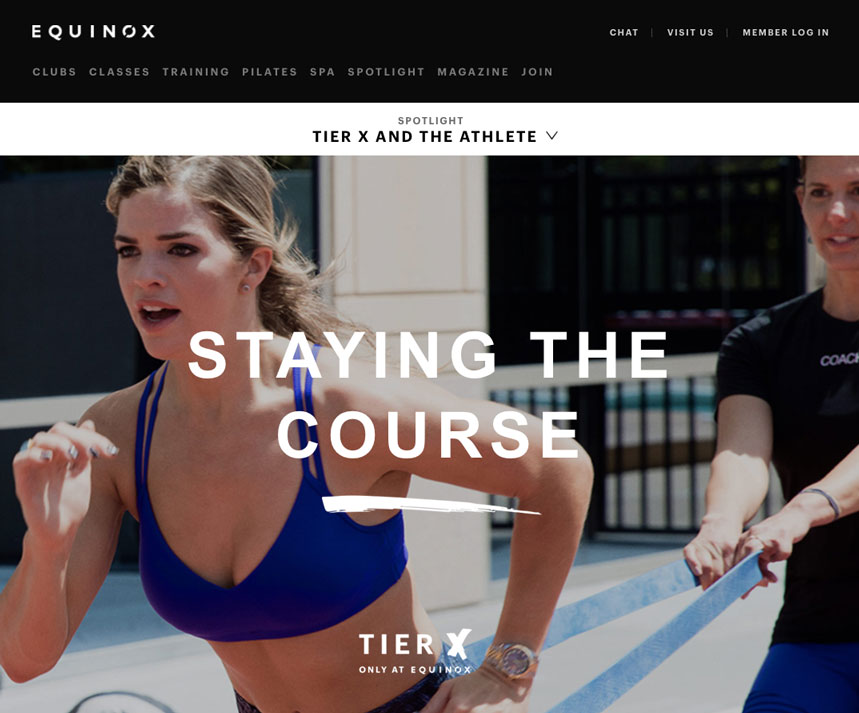 Steve Nash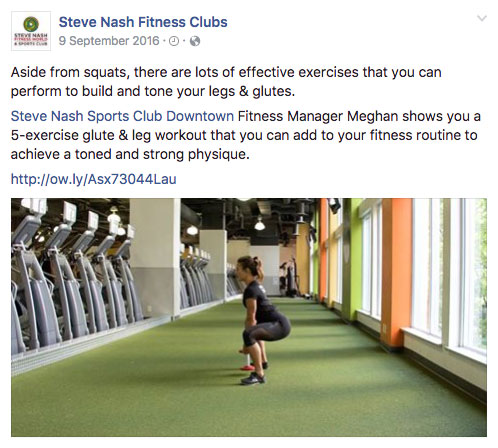 How this post drives traffic:
It's instructional! People who enjoy fitness like learning new things. I like that the post has a specific target: people who want to tone their legs and glutes. This allows the linked content to be more specific to their goals.
It references a specific club location; the well-shot photo shows off the club's clean and spacious interior, which might entice Facebook users to check it out or join.
The caption clearly states what a reader will find in the linked blog post.
The blog post itself is informative, highlights a specific member of the personal training team, and includes a CTA to speak with a personal trainer.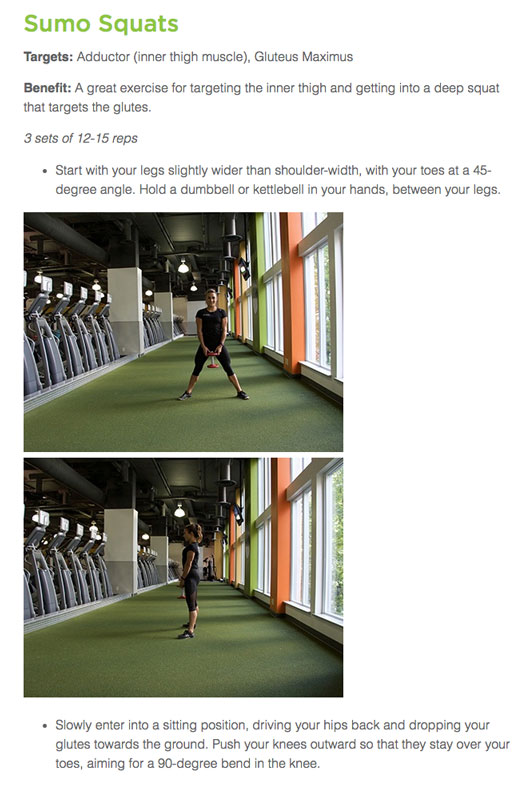 GoodLife Fitness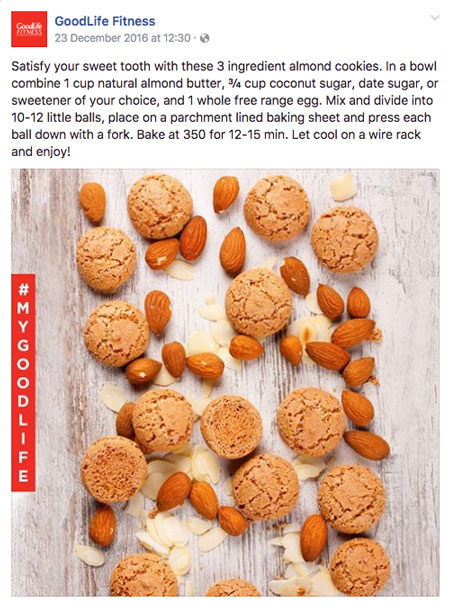 How this post drives traffic:
It's a simple, health-conscious recipe, which appeals to the busy gym-goer.
The picture is beautiful and highlights both the finished product and the ingredients used to make it. It's visually striking, which can help to catch Facebook users' attention while they scroll through their News Feeds.
Though this post doesn't directly direct viewers to an external link, it's a branding play that boosts GoodLife's credibility as a source for easily-digestible, reliable information related to fitness. This helps garner Facebook fans, who might choose to sign up for GoodLife in the future.
Twitter
Since its launch in 2006, Twitter has become a social media staple in the marketing world.
Beyond being an ideal place to post content, Twitter is one of the best ways to connect and interact with both potential customers and your current members. You can Retweet user-generated content, provide customer service, and share bite-sized updates on your brand.
That being said, it's not the best social media platform. In the past, Twitter was ideal for the mobile user; now, almost everyone has access to mobile data, meaning other platforms like Facebook and Instagram continue to grow in popularity while Twitter struggles to find a niche.
However, Twitter's still a good platform to drive traffic, with over 100 million daily active users.
Best Practices
Use relevant hashtags to reach new parts of your target market
Reach out to (@mention) local/industry influencers to increase engagement and get your Tweets retweeted
Schedule your posts with a social media management tool (Buffer, Hootsuite, etc.) to increase post consistency and track analytics.
Use other content forms (Twitter live video, GIFs, etc.) to get the attention of Twitter users scrolling through their feeds.
Here's a few fitness centers who are making Twitter work for them:
Planet Fitness

How this account drives traffic:
Planet Fitness has a very strong brand theme on their page – everything is in bright purple and yellow, which helps maintain brand consistency and helps their content be identifiable at a moment's glance
The company often runs polls and posts GIFs to increase engagement from their over 90,000 followers. This encourages favorites and retweets, meaning the Planet Fitness brand is spread across Twitter
Planet Fitness' Twitter banner highlights a promotion, with the value in big, block numbers. It also impresses a sense of urgency by emphasizing the end date of the promotion. From the banner, it's easy for users to find the planetfitness.com link to sign up.
Anytime Fitness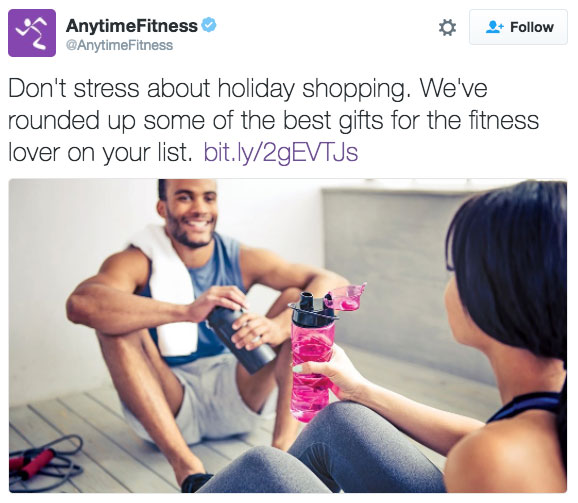 How this account drives traffic:
AnytimeFitness drives traffic to content on their blog with a simple Tweet including a link accompanied by an image.
They're being topical (this Tweet was posted in December), by capitalizing on the holiday season. This makes the Tweet more relevant to Anytime's audience, increasing the likelihood they'll engage with it.
The blog post being linked to isn't a simple list of exercises or a specific routine. Instead, it's a post that's still relevant to fitness lovers, but also to friends and family of these types of people. Driving non-customers to their blog could help AnytimeFitness generate leads to nurture into members.
Gold's Gym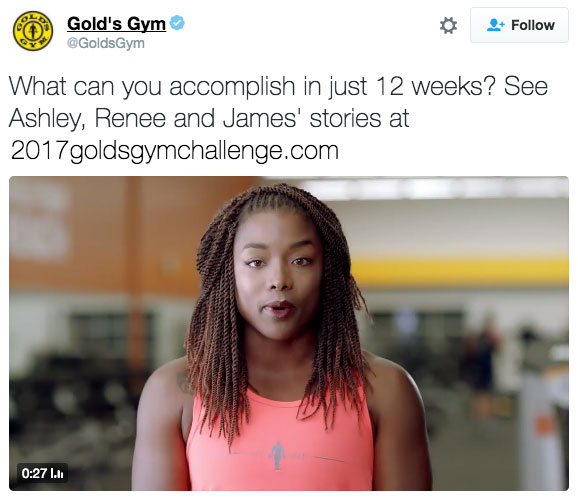 How this account drives traffic:
Gold's uses a video, which stands out on people's Twitter feeds.
The video highlights 3 Gold's Gym members who underwent fitness transformations, and features a CTA to drive viewers to get their "free 12 week fitness plan".
The Tweet text is engaging – it asks followers a question and directs people to visit the 2017 Gold's Gym Challenge webpage.
The webpage itself is a landing page featuring Gold's member transformations, as well as a push to sign up for a free VIP pass.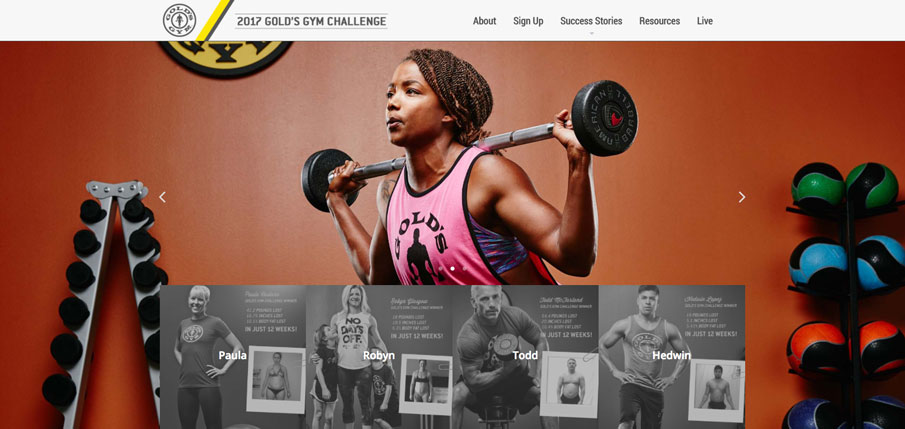 Instagram
In just a few short years, Instagram has grown an engaged community of over 500 million monthly users who post, share, and engage with millions of photos and videos daily.
Depending on the target market of your fitness center, Instagram can be a prime platform for your social media marketing. It's a highly visual platform, which provides the perfect opportunity for you to show off high-quality images of your facility, transformation photos of your users, or videos of your group fitness classes in action.
However, Instagram can be tough to use when driving traffic to your website, as it only supports a single link in the user's bio. Here's some best practices that can help you take advantage of the platform…
Instagram Best Practices
Use an app like VSCO or Enlight to make your pictures stand out on a crowded Instagram feed
Use a monetization platform like Like2Buy to make your feed shoppable
Post short-form preview content (how-to guides for exercises, blog posts on nutrition) and link to the content in your posts and on your bio
Run Instagram promotions to a landing page with a discount or coupon
Use hashtags to reach other users in your target market
Here's a few examples of businesses who have Instagram all figured out:
ClassPass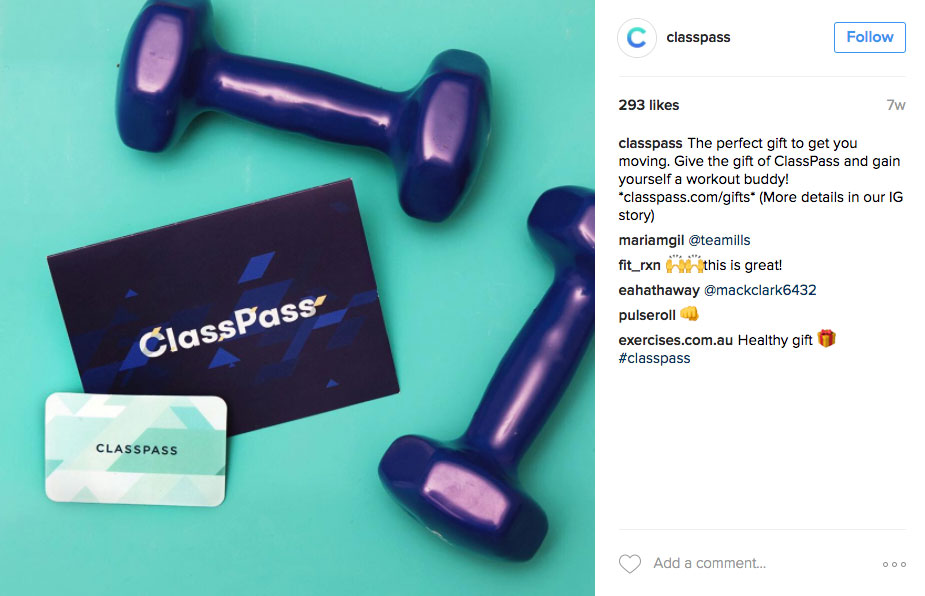 How this post drives traffic:
The bright (and on-brand) colors help this image stand out. Instagram is a highly visual platform, and ClassPass takes advantage by posting an aesthetically pleasing image with relevant props (like dumbbells).
The caption is relevant (this was posted around Christmastime). ClassPass informs viewers doing Christmas shopping that their product is a great gift. It's also targeted to current ClassPass users ("gain yourself a workout buddy!").
The post links to a beautiful landing page that promotes the benefits of giving ClassPass as a gift. This is a great way to convert social media traffic into customers.
The post also directs viewers to ClassPass' Instagram Story, which makes the post a little more "interactive" and allows ClassPass to provide more details to interested followers.
Life Time Fitness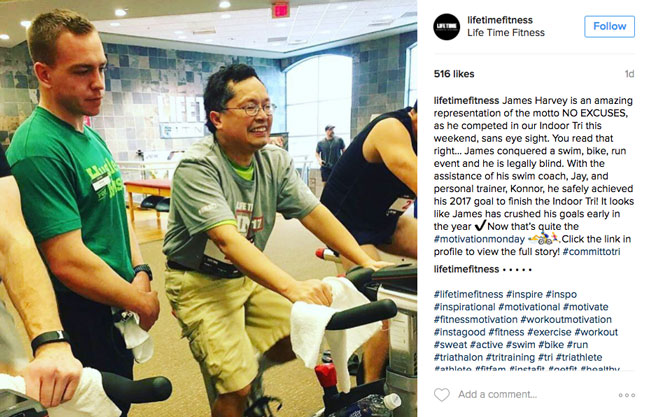 How this post drives traffic:
Though the photo isn't of the highest quality, what makes it so special is how genuine it is. This photo was clearly taken in-the-moment – it's not staged, which is a rare occurrence as Instagram trends move towards more refined photography.
The caption tells a story of a special Life Time Fitness member. It's touching and motivating, making it perfect for a fitness Instagram feed. Though long captions don't always work well, it's perfect for this situation.
Life Time uses a popular hashtag (#motivationmonday) in the caption as well as an array of hashtags in a comment to reach as many people on Instagram who are interested in fitness as possible.
Lastly, Life Time links to a piece of content in their bio to drive traffic to their website. People who are invested in this post will check out the link to see the rest of the content.
Orangetheory

How this post drives traffic:
Though this isn't a direct traffic driver, contests are one of the best ways to drive engagement. Because the contest requires entrants to take pictures of their coaches, it incentivizes current, inactive, and potential members to attend a class.
I like that Orangetheory uses this contest to incentivize Instagram followers to engage on Snapchat as well, boosting the success of their other social platforms.
Because the prize is directly related to Orangetheory's brand and product, it helps them generate followers who they can turn into customers in the future.
As you can see by the comments, people are engaged, even on Instagram. Who doesn't like free stuff? People tag their friends to get them to enter, which increases engagement and the likelihood that somebody else will see the post.
Quora
For a lot of people, the fitness world can be a confusing one. Whether it's the latest HIIT circuit, a complete guide to the deadlift, or an incredible body transformation, fitness knowledge is in high demand. The number seem to agree, based on /r/Fitness' 6 million users and Bodybuilding.com's 130 million forum posts.
If you haven't heard of Quora, let me explain. It's a question-and-answer site where users can ask and answer questions in a wide variety of topics, including fitness (think Yahoo! Answers, but, y'know… better).
What does this mean for your business? It's an opportunity to interact directly with potential customers and spread knowledge of your brand.
One thing I'd like to note is that your Quora strategy (and thus the value you derive from it) can vary greatly based on your business. If you're selling a fitness-related product or online coaching, you'll have access to a greater number of Quora topics. Fitness centers based in a single area might not find a huge return unless they're answering questions for a certain location (e.g. "What are the best gyms in Vancouver?").
Quora Best Practices:
Make sure you consult Quora's rules and guidelines so your responses don't get removed by a moderated
Don't be overly promotional – look to provide value in your answers. Write with the intention to provide good answers to the users asking questions; link your blog or website sparingly (and only when it's directly relevant)
Find a local Quora topic (e.g. Vancouver, Los Angeles, etc.) and look for questions related to fitness. These are the people who are most likely to become customers if you have a fitness center
Here's three examples of some fitness-related questions and answers you might see on Quora:
Example 1
Q: What's the best gym in Vancouver?
I just moved to Vancouver and I'm looking to make a lifestyle change. I've been hired as an executive at an accounting firm downtown (I have an apartment there as well), and I want to join a gym that isn't too crowded and has great amenities. What's my best option?
A:  Hey [name],
First off, welcome to Vancouver! Hope you like the rain. 🙂
Based on the information you've given, I think you'd love us here ate Equinox. It's a bit pricier than other local options, but I think you'll find the amenities are worth it.
We have a beautiful, spacious and fully-equipped gym with group classes covering things like boxing, spinning, and conditioning. Of course, we've got an amazing spa as well to help you relax after an intense workout.
If you're interested, I'd love to show you around! Shoot me a message here, an email at [email] or visit our website to book a tour.
Cheers!
Carlo
Equinox West Georgia Street
Example 2
Q:  What's a good beginner routine?
Hey all, I'm new to working out and I have time to work out about three times a week for an hour. I'm currently working out at my apartment gym, so equipment is in short supply. Can anyone help me put together a simple routine that will help me get stronger? Thanks in advance 🙂
A: I put together a quick routine that you should be able to do with the things you have at your apartment's weight room. It's a 3-day routine with a focus on compound lifts (with a few accessory movements as well to help you gain some muscle). Here it is:
DAY 1: Push (Chest/Shoulders/Triceps)
Barbell Bench Press 5×5
Overhead Shoulder Press 5×5
Incline Dumbbell Press 3×10
[etc.]
DAY 2: Pull (Back/Biceps)
Deadlifts 5×5
Bent Over Barbell Rows 3×10
Lat Pulldowns 3×10
[etc.]
DAY 3: Legs
Squats 5×5
Leg Press 3×10
Lunges 3×10
[etc.]
There you go – hope that helps! If you have any more questions, feel free to shoot me a message or – even better – come in to visit us at AnytimeFitness.
Cheers!
Carlo
AnytimeFitness
Example 3
Q: What's the easiest way to lose weight?
I know, I know: diet and exercise… but how exactly do I go about it? I don't have a lot of time to cook and I often go out for lunch on the weekdays.
A: Although exercise can do wonders for your physical and mental health, the best way to lose weight is to simply eat less.
It's probably not what you want to hear, but it's the truth!
Basically, you want to ingest less calories than you expend in a day (for reference, 3500 calories is a pound).
Calorie-counting is the most accurate way to lose weight, but it's not for everyone. If that's not your kind of thing, try a few of these things:
Cut out sugary drinks: Replace things like soda or rich Starbucks drinks with zero-calorie options like Coke Zero or black coffee.
Moderation: If you're having trouble letting go of the food you eat regularly, try eating only 80% of it, and take the other 20% home.
[etc.]
If you're really looking to make a lifestyle change (or you're having trouble sticking to a plan), you might want to consult an online coach. If you're interested, I can create a diet plan for you – just contact me at [link]. 🙂
Best,
Carlo
Yelp
If you're a business owner, you probably know what Yelp is. Though it hosts photos and business information, Yelp is most well-known for its crowd-sourced user reviews. It's not a huge traffic driver, but it's one of the most important social networks for fitness centers.
Yelp is especially important for fitness centers, as many people who are looking to join a gym will do research on the platform to see what other customers think of their potential candidates.
Though Yelp is largely crowd-sourced, you have the opportunity as a business owner to maintain your business' image on the popular review site. People gain a lot of confidence in a business with high social proof – meaning it's in your best interest to maintain a high standing on review sites like Yelp.
Yelp Best Practices:
Respond to both good and bad reviews. Thank happy reviewers for their kind words, and work hard to remedy concerns put forth from unhappy reviewers
Keep your business' Yelp page updated, with information on location, hours, and contact information
Take and upload high-quality photos of your fitness center, showing off your equipment and facilities
Ask your current members for Yelp reviews to get feedback and increase your Yelp rating
Steve Nash Fitness World

Why this response is great:
Note that Samuel has left a five-star review with no complaints whatsoever. Many businesses only take to Yelp to respond to negative commenters; I love that the club still takes time to reply to positive reviews.
Lauren's response is great; it's a genuine thanks for leaving a review on the Yelp page, and it's not a canned response, either.
Planet Fitness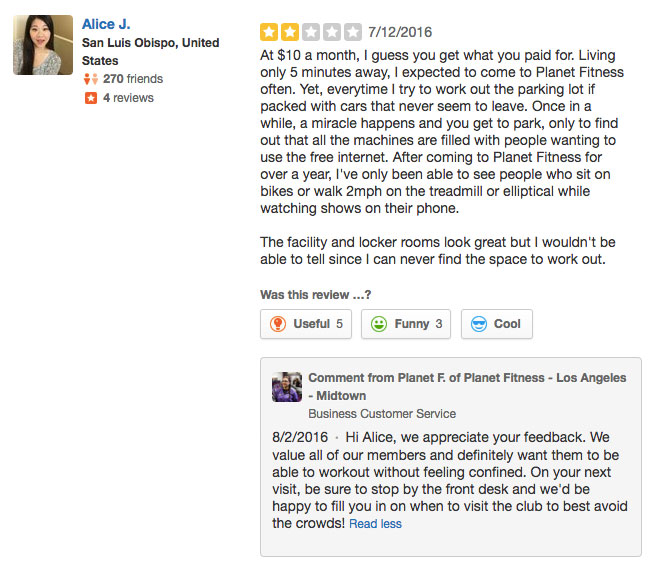 Why this response is great:
Planet Fitness' response is a diplomatic and even-tempered response to Alice's complaints. Alice isn't actually directly complaining about anything Planet Fitness controls – she is simply frustrated about the crowded parking lot and gym.
I like that they provide a proactive response to helping fix Alice's problems. They address the concern, acknowledge it, and then provide a solution. It's clean and simple.
Orange Theory
Why this response is great:
This is a mixed (but mostly positive) review that highlights both the great workout the member had, as well as negative surprise of the cost for valet parking.
This response is wonderful. First, Paul thanks Lisette for her review and highlights their commitment to good customer service.
Next, he respond to Lisette's concern and informs her that she's actually mistaken (without sounding condescending or rude).
He finishes the review by thanking her again and emphasizing the benefits she receives with her membership to the gym. It's a well-crafted response and awesome for PR.
Conclusion
Hopefully, this guide has given you a good idea of what it takes to be successful on social media. It doesn't always work for everyone, but I've seen firsthand what it can do for businesses like yours.
The five platforms we covered are great places to start when it comes to organically driving traffic to your website so you can get more members. Put some time into developing your presence on each of them, and you'll see how powerful social media can be.