Wishpond Announces SalesCloser AI: An AI Sales Rep Capable of Conducting Zoom Presentations
Wishpond's upcoming AI driven platform, SalesCloser AI, can perform automated demos, discovery calls and presentations.

The AI powered platform is the first of its kind, being able to operate 24×7 in different languages and scale effortlessly. 
Vancouver, BC – August 16, 2023 – Wishpond Technologies Ltd. (TSXV: WISH, OTCQX: WPNDF) (the "Company" or "Wishpond"), a provider of marketing-focused online business solutions, is pleased to announce the upcoming launch of "SalesCloser AI", its AI-powered sales platform. SalesCloser AI is Wishpond's proprietary solution that is reshaping the sales landscape by delivering personalized, round-the-clock sales calls and product demos without the need for human intervention.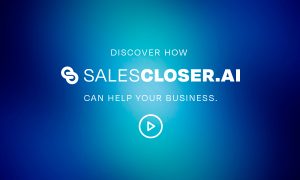 Management of Wishpond anticipates that its new SalesCloser AI will be a game-changer for businesses of all sizes and industries.  Wishpond has designed this cutting-edge technology to streamline demo bookings and sales calls to provide its customers with the ability to build and scale their sales teams effortlessly while enjoying uninterrupted service regardless of language, time zones or geographical boundaries.
Ali Tajskandar, Founder and CEO of Wishpond commented, "Our AI-powered Sales Closer platform represents a paradigm shift in the way businesses approach sales and product demonstrations.  With SalesCloser AI, your sales team is always available and scalable. We've harnessed the power of AI to create an unmatched solution that brings together personalization, accessibility, and efficiency.  Businesses can now focus on scaling their operations."
Wishpond expects that unlike traditional sales teams, the AI-powered platform will not be confined by traditional limitations.  It aims to operate 24/7, empowering businesses to conduct a higher volume of sales calls and target international markets with ease.  SalesCloser AI is primed to take over the entire sales process, from discovery calls to slide presentations and intricate product demonstrations.
Key features of SalesCloser AI include:
Real-time Conversation:

  The AI technology adapts in real-time during conversations with prospects, creating a truly personalized experience that resonates with potential customers.
Multi-media Demo Presentations:

Designed with both audio and video capabilities, SalesCloser AI can seamlessly guide prospects through presentations and product demos.
Multilingual Support:

  SalesCloser AI aims to conduct sales calls and demos in various languages on demand, opening opportunities for businesses to expand their reach and cater to a global audience.
Cost-Effective:

SalesCloser AI is intended to be an efficient alternative to scaling the sales team, providing substantial cost savings without compromising on quality.
Wishpond believes that SalesCloser AI is poised to transform industries across the board, particularly benefiting virtual sales professionals, SaaS companies, consultants, and various B2B enterprises that rely on online sales interactions.  Scheduled for release by the end of the year, SalesCloser AI is a testament to Wishpond's commitment to driving innovation and shaping the future of sales.  
For more information, or to sign-up for an early release version, please visit:  www.salescloser.ai 
Wishpond Technologies Ltd.
"Ali Tajskandar"
Chairman and Chief Executive Officer
About Wishpond Technologies Ltd.
Based out of Vancouver, British Columbia, Wishpond is a provider of marketing-focused online business solutions. Wishpond is a leading provider of digital marketing solutions that empower entrepreneurs to achieve success online. The Company's Propel IQ platform offers an "all-in-one" marketing suite that provides companies with marketing, promotion, lead generation, ad management, referral marketing, sales conversion and outbound sales automation capabilities on one integrated platform. Wishpond replaces disparate marketing solutions with an easy-to-use product, for a fraction of the cost. Wishpond serves over 4,000 customers who are primarily small and medium-sized businesses (SMBs) in a wide variety of industries. The Company has developed cutting-edge marketing technology solutions including an artificial intelligence (AI) powered website builder and continues to add new features and applications. The Company employs a Software-as-a-Service (SaaS) business model where most of the Company's revenue is subscription-based recurring revenue which provides excellent revenue predictability and cash flow visibility. Wishpond is listed on the Exchange under the ticker "WISH", and on the OTCQX Best Market under the ticker "WPNDF". For further information, visit: www.wishpond.com.  
Cautionary & Forward-Looking Statements
Neither the TSX Venture Exchange nor its Regulation Services Provider (as that term is defined in policies of the TSX Venture Exchange) accepts responsibility for the adequacy or accuracy of this release.
This press release may contain certain forward-looking information and statements ("forward-looking information") within the meaning of applicable Canadian securities legislation, that are not based on historical fact, including without limitation statements relating to the potential operations and business results from the Company's Sales Closer platform, containing the words "believes", "anticipates", "plans", "intends", "will", "should", "expects", "continue", "estimate", "forecasts", "schedule" and other similar expressions.  Readers are cautioned to not place undue reliance on forward-looking information.  Actual results and developments may differ materially from those contemplated by these statements. The Company undertakes no obligation to comment analyses, expectations or statements made by third-parties in respect of the Company, its securities, or financial or operating results (as applicable). Although the Company believes that the expectations reflected in forward-looking information in this press release are reasonable,  such  forward-looking information has been based on expectations, factors and  assumptions  concerning future events which may prove to be inaccurate and are subject to numerous risks and uncertainties, certain of which are beyond the Company's control, including, but not limited to, the risk factors discussed in the public disclosure documents of the Company which such risk factors are incorporated herein by reference and are available through SEDAR  at  www.sedar.com.  The forward-looking information contained in this press release are expressly qualified by this cautionary statement and are made as of the date hereof. The Company disclaims any intention and has no obligation or responsibility, except as required by law, to update or revise any forward-looking information, whether as a result of new information, future events or otherwise.
For Further information:
Pardeep S. Sangha
Investor Relations, Wishpond Technologies Ltd.
Email: investor@wishpond.com
Phone: 604-572-6392