How to Drive Small Business Website Traffic: Social Media
Social media is a powerful way for your small business to drive traffic to your website, but not every social media platform is built the same. Sure, Facebook has 2 billion users, but is it actually the best platform for your business? This chapter will break down the best practices (with examples) for each of the top three social media platforms: Facebook, Twitter and Instagram. But we'll also dive into those peripheral (but no less valuable) social platforms; Quora and Reddit. Let's get started!
Facebook
Stats:
2 billion worldwide users total
1.18 billion daily active users
1.09 billion mobile daily active users
73% of the US adult population
Approximately 84.9% of daily active users are outside the US and Canada
The most evenly-distributed demographics of any social media platform
(Source:
Social Media Marketing Plan
)
Introduction to Facebook
Nobody's asked the question "What is Facebook?" since 2013. So I won't pretend you don't already know. What I will ask though, is this: What is Facebook worth to your business? Is it relevant for your industry or target market? Facebook has 1.18 billion daily active users. At least three out of every four people in the Western world (and more in some countries in Asia) sign in to post and check statuses, upload images and communicate with their social networks every single day. Think of Facebook as a trade show, with 1.18 billion people walking through every day. If you heard that was coming to town, would you see how much a booth cost? Yes, you would. Now, not every business will be able to find success on Facebook with ease, but every business needs a Page nonetheless. Your Facebook Page is likely to be the second-most-popular search result below your website. A Page will give you another avenue for potential customers to find you. It will have your address, a phone number, and a brief description. At the very least, think of Facebook as a constantly-updatable and interactive Yellow Pages. At the most, think of Facebook as potentially the greatest marketing and advertising platform out there.
Best Practices to Drive Traffic with Facebook
Post on the weekends – 32% higher engagement
Target your posts to your local area or the timezone (if you're targeting multiple timezones)
Include a Call-to-Action like "Read the full article by clicking here!" or "Check out the promotion by clicking here!"
Use Facebook video to increase the reach of your Posts
Offer Facebook-exclusive Discounts
(Sources:
CoSchedule
3 Examples of Small Businesses Driving Traffic with Facebook
Beach Fire Brewing (Brewpub and Restaurant):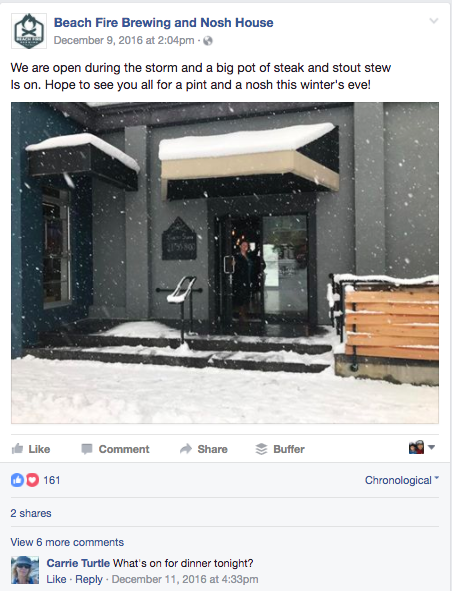 How This Post is Driving Traffic:
Beach Fire uses its Facebook Page as a loudspeaker to talk to potential and previous customers. They update their opening hours and promote limited-availability dishes.
This post is a great example of "in-the-moment" marketing – one of their employees or social media marketers has, quite literally, gone outside the brewpub and taken a picture of the front door with snow. The post "We are open during the storm and a big pot of steak and stout stew is on," in conjunction with the real-time image is a great draw for people thinking about dinner and a beer.
Earthegy (Jewelry Retailer in Waynesboro, Virginia)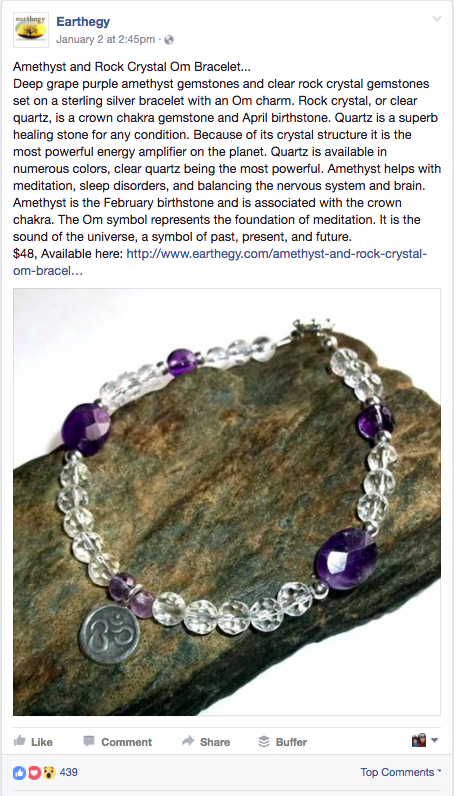 How This Post is Driving Traffic:
Earthegy knows their audience, and taps into the history of the gems to get them interested
Extensive description of each piece gives all the information a prospective customer could need, right here. All they have to do is click and purchase on the website
All of Earthegy's posts are this format – implying they've tested shorter Posts and found this to give the best return
Their images are professionally-done (this is of huge importance for retailers, as the worst thing you can do is post a grainy, low-light shot of a product taken from your phone)
Titanic Spa (Spa in Huddersfield, UK)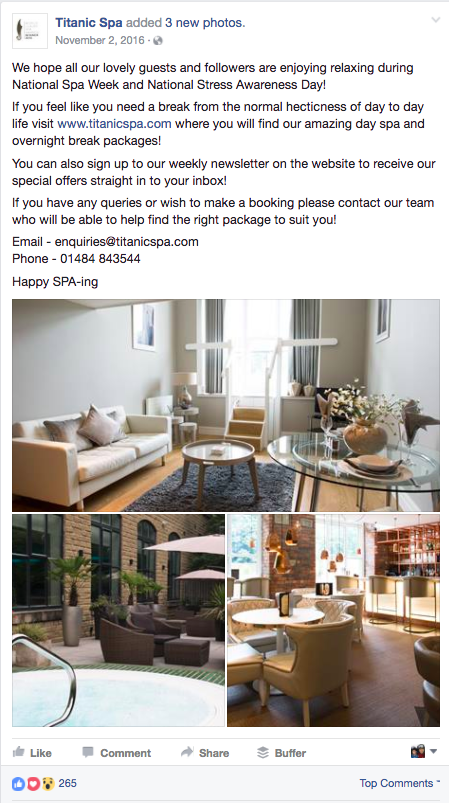 How This Post is Driving Traffic:
TitanicSpa periodically publishes these types of Posts for new Followers – giving them everything they need to know about the Spa, including contact details, newsletter prompt and website
TitanicSpa is hyper-aware of all the National "X" Days associated with their business. This is best practice for every small business looking to get Facebook engagement. Are you a brewery? You need to know when "National Beer Day" is. Are you a spa?  "National Stress Awareness" is a good one.
Twitter
Stats:
230 million monthly active users
100+ million daily active users
208 followers (on average) per user
Delivers 1 billion unique visitors to website via embedded links/month
Fourth in usage, despite being recognized as second in popularity
(Source:
Social Media Marketing Plan
)
Introduction to Twitter</h2 >
Twitter isn't just a place for people to learn what Justin Bieber had for breakfast (though it's definitely that…) It's also a platform to reach your audience but (for many businesses), more powerfully, it's a platform to reach individuals. Twitter is a great way for your small business to identify and reach out to your industry's thought-leaders, influencers and big names. Don't get me wrong,
Best Practices to Drive Traffic with Twitter
Use hashtags to increase reach
@Mention influencers or thought-leaders to encourage Likes and Retweets
Use a free social media scheduling tool to give you quick access to analytics (Buffer, Hootsuite, PostPlanner, etc)
Start with 8 posts per day and work down, measuring the whole time.
Post multiple times for each promotion/article

For each promotion, write three unique tweets
Share each promotion once a day for three days

If you have a national or international market, schedule posts 24 hours a day to maximize traffic.
Test gifs (they automatically load and grab the eye of Twitter users)
3 Examples of Small Businesses Driving Traffic with Twitter
Chiropractic Family Health Center (Centreville, Virginia):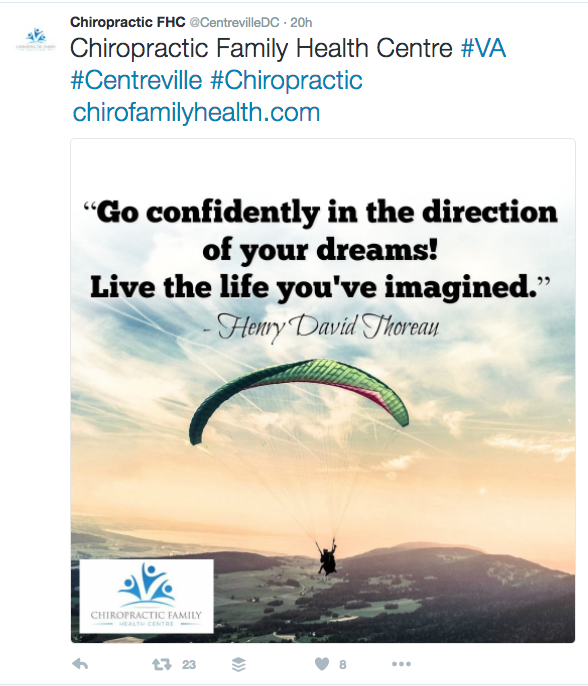 How This Account is Driving Traffic:
Chiropractic FHC knows that their Twitter Followers only care to hear so much about chiropractic things. So they post about 80% of the time about things relevant to their local market – Centreville, Virginia
However, they intersperse
They use local/geo and business-related hashtags to increase the reach of their Tweets. If anybody uses Twitter to search for Virginia chiropractors, this post will show up.
They use inspirational quotes to increase retweets. People love to share inspirational stuff on social media.
They brand each of their quotes images with their business logo, so even if someone removes their message when they retweet it, their logo remains.
VideoIgniter (Video and Motion Graphics Production Company):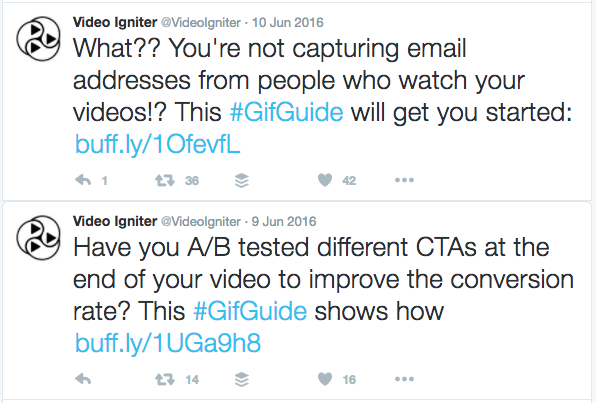 How This Account is Driving Traffic:
Eye-grabbing words, exclamation points and questions do that little bit more to get attention in a Twitter user's newsfeeed
Branded hashtags (#GifGuide) keeps their content organized
@mentioning influencers (@JesseBournan) and other accounts (@ClarityFM) to increase the chance of a valuable retweet
Scheduling (Buffer-shortened URLs) enables Video Igniter to post at night
They post very irregularly, increasing the subjective value of their content (test this for yourself, though)
NameCheap (Domain Registrar and Web Host):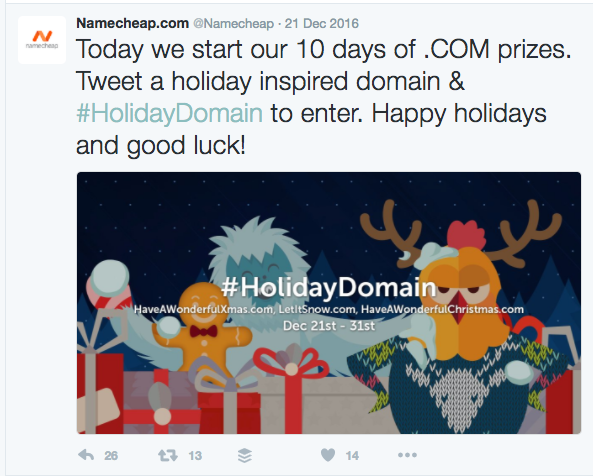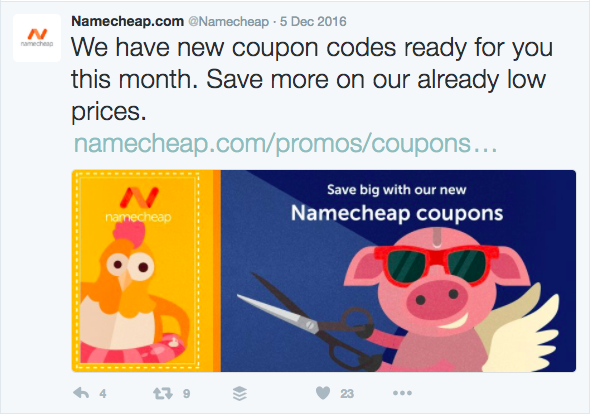 How This Account is Driving Traffic:
Eye-grabbing, colorful visuals attract Followers to their Tweets above others
Promotions and coupons incentivize engagement
Pronouns (We, You) make communication personal
Instinctively, when humans see a question they have an urge to answer it. Using them as a hook in your tweets (and other social media posts) is a great call.
Instagram
Stats:
500 million active users a month
Demographically skewed towards younger demographics
User engagement rate of 4.21% – far exceeding Facebook or Twitter
40 million photos shared every day
75% of users are outside the US
(Source:
Social Media Marketing Plan
)
Introduction to Instagram
Instagram is (now) a subsidiary of Facebook and, with 500 million monthly users, is the second largest platform out there. It has the youngest demographic (of the larger platforms) and is the most visual-centric. Images are at the center of Instagram's popularity and success. If your business doesn't have an interesting-looking product, the fact of the matter is that Instagram will probably be a difficult platform to derive a solid ROI.
That said, keep reading for an example of a chiropractor getting 25,000+ views on his Instagram videos…
Best Practices to Drive Traffic with Instagram
Put more time into your images than you think you need to. Make them beautiful
Use a plugin like Like2Buy or Have2HaveIt to monetize Instagram
Go "behind-the-scenes" with your business
Have a sense of humor
Encourage user-generated content and feature it in your own feed
Tap into holidays and current events
For more, check out The 7 Characteristics of a Profitable Instagram Strategy or How to Kick Instagram Ass Like Ben & Jerry's.
3 Examples of Small Businesses Driving Traffic with Instagram
BonPuf Cotton Candy: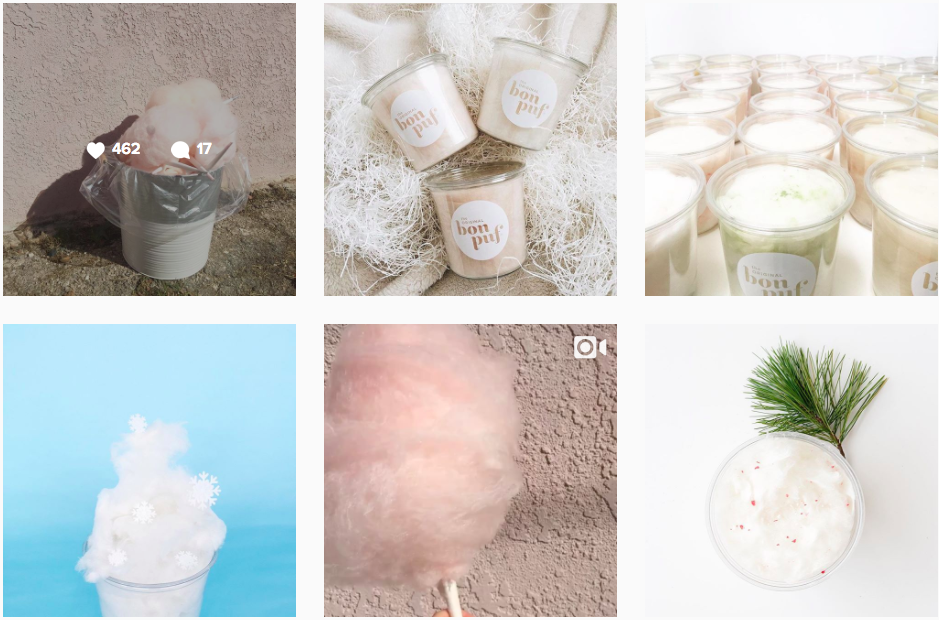 How This Account is Driving Traffic:
Beautifully-taken photos
"Branded" stylistically. All the images match thematically and design-wise
Features the person behind the brand, removing the "facelessness" aspect of many brand's marketing
Taps into "boomerang" and other Instagram-based tools that make the platform more powerful and add a bit of something more
Afters Ice Cream: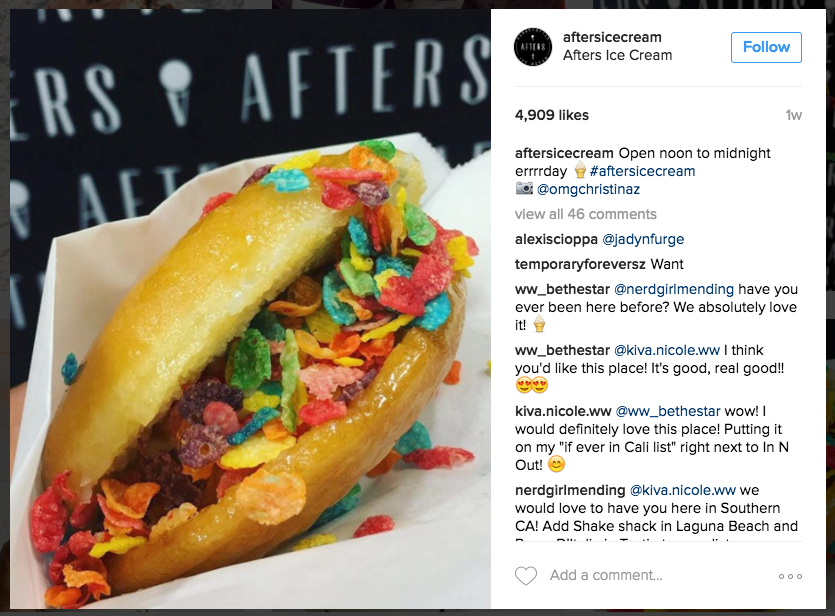 How This Account is Driving Traffic:
Personality ("errrrrday")
Featuring user-generated content (@omgchristinaz) from existing Fans
Originality in posts and products. Changing up their product line to interest existing and new potential customers
Encouraging the use of a branded hashtag (#aftersicecream) to get Fans and customers to tag their food
Dr. Kevin Marryshow (Chiropractor with clinics in Toronto and Orlando):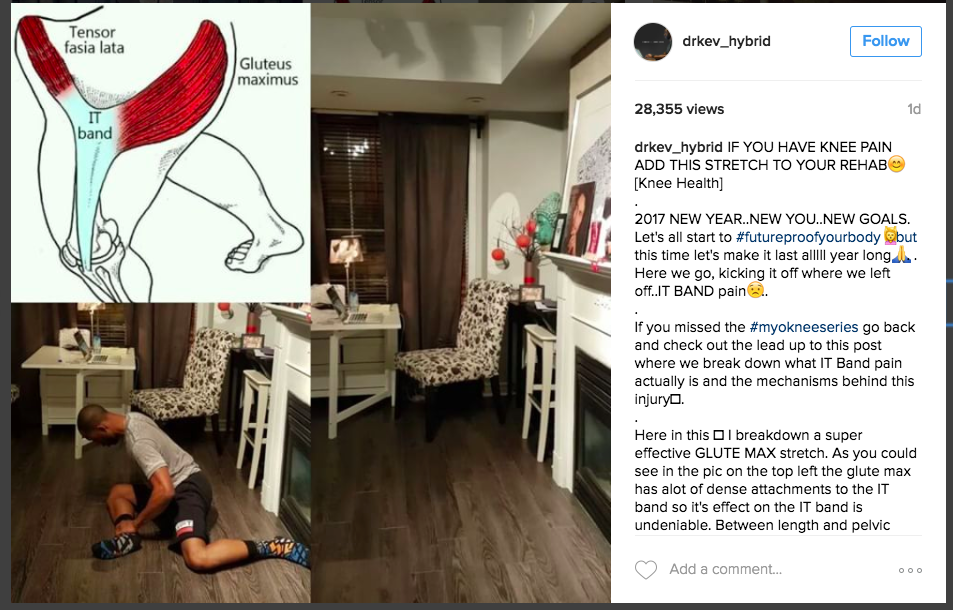 How This Account is Driving Traffic:
Paid promotion of high quality, educational videos and content puts him in front of new prospective clients
Extensive breakdown of what the video is discussing  to add value (test this)
Video/content series with relevant campaign hashtag
Emoticon usage in both posts and profile
Use of caps within the post to grab attention and get people to start reading
Value-based posting. These are all very educational, valuable posts. No fluff (except a few personal shots of him and his partner, which add personality)
Quora
Stats:
200 million+ accounts created
Approximately 100 million monthly active users
Approximately 50% from the US and 15% from India
50% from the US makes Quora the platform with the highest percentage of US users
(Source:
Quora
)
Introduction to Quora
Quora is a leading forum for people to ask questions and get them answered. Similar to Reddit, the visibility of both questions and answers is based on "upvotes" from the community. If you ask a question a lot of people want the answer to, they'll upvote it and it will be seen more quickly. If you answer a question and people love what you've written, they'll upvote it and increase its visibility. For small businesses, Quora can be a way to target people specifically looking for something your business provides. Let's say I had a business in Seattle…
If I ran a daycare…

If I ran a tourist business, funky venue, or other attraction…

If I was a local bar, spa, hotel, etc…
If I was a restaurant…

Best Practices to Drive Traffic with Quora
Read Quora's moderation policy and guidelines, so you don't waste time writing a response only to have it removed by an admin.
Be subtle with the promotion of your business, ideally (this is what works for us) answer the question and then link to a more comprehensive answer on your site with something like "For more on this, I've written a complete guide at ____."
Put effort into your answers. Can't stress this enough.
3 Examples of Small Businesses Driving Traffic with Quora
Wishpond: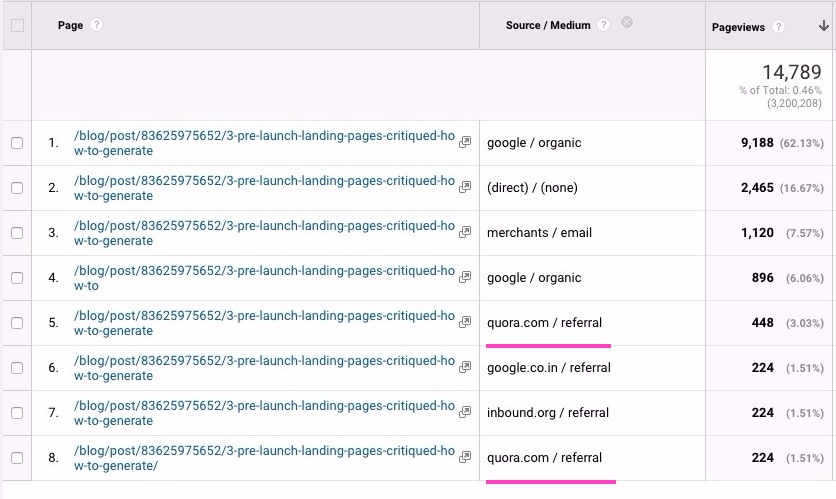 Roadtrippers: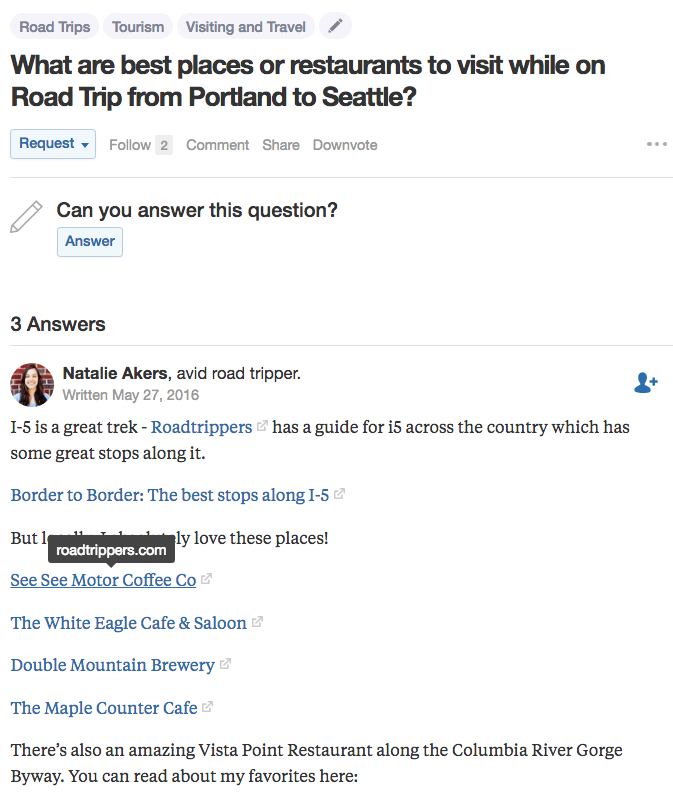 How this Quora Post Drives Traffic:
Very effectively answering the question. There's no possible argument from the Quora moderators. A question has been asked about the best places or restaurants to see between Portland and Seattle, and the respondent has answered the question perfectly. This is the strength of Quora. Your business is (or has the content) the answer to a specific question. If someone asks a specific question which your business has the specific answer for, there's no way to answer
without
bringing your business' content into it.
Modgility: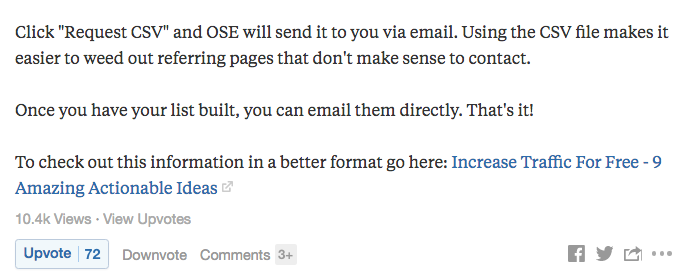 How this Quora Post Drives Traffic:
Modgility has copied an entire long-form, step-by-step resource into Quora in response to a question asked. They've reformatted it and added all the images manually then, only at the end, have they pitched "this information in a better format.'
Related Resource
:
How We Answer Quora Questions to Drive Traffic to our Website
Reddit
Stats:
Averages 130 million pageviews a month
234 million active monthly users
853,000 subreddits
11,464 active communities
Average visit length is more than 13 minutes
(Sources:
Reddit
 & and
ExpandedRamblings
)
Introduction to Reddit
Reddit is a forum with some of the most engaged members out there. It runs on a platform of "sub-reddits" – themed mini-forums where members post relevant content and see it made more visible by upvoting or less visible by downvoting from other users. Some examples are "reddit.com/r/gaming" where members can post videos, images, gifs, articles and original content related to gaming. For marketing purposes, check out subreddits like "reddit.com/r/smallbusiness" or go with your industry, like
/r/accounting
 or
/r/chiropractic
. With more than 850,000 subreddits, there's something for every business.
Best Practices to Drive Traffic with Reddit
Find a relevant subreddit and post there. Don't post the same content on multiple subreddits.
Don't sell or promote obviously. If you do, subreddit moderators won't let your post anywhere near users.
Don't spell anything incorrectly or have grammatical errors. Redditors will call you on it and then downvote you to oblivion.
If posting educational content, post 75% of the value and link to the rest.
Actively respond to comments to keep the dialogue active.
3 Examples of Small Businesses Driving Traffic with Reddit
Wishpond Provides a Massive List-post Resource: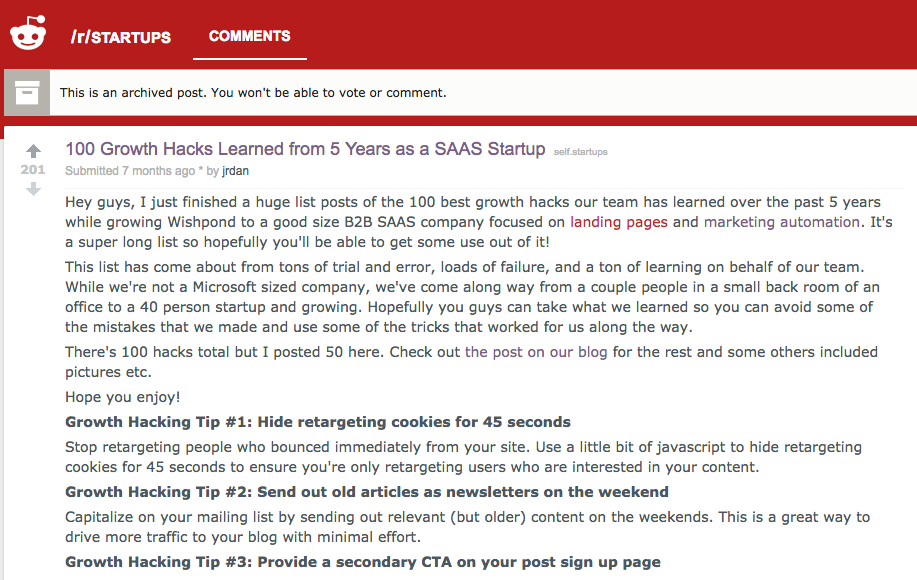 Since its publication 7 months ago, this article has received 665 pageviews from a single Reddit post: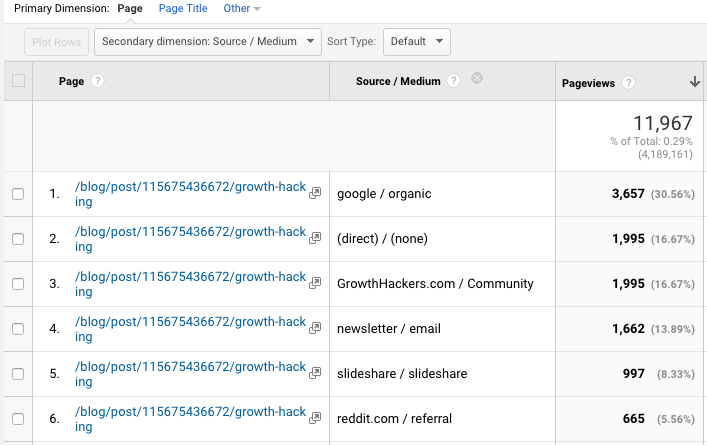 How this Reddit Post Drives Traffic:
The post features only about 30 of the mentioned growth hacks. The rest are in the main article linked at the bottom.
"A Dark Room App" Shares Their Experience:

How this Reddit Post Drives Traffic:
Stories of success do really well on the small business, entrepreneur and startup subreddits. People like to hear the step by step strategies behind a business' success. "A Dark Room App" (and apps in general) are able to tap into a strong tech-savvy Reddit audience and drive awareness and engagement with their businesses along the way.
"The Definitive Guide to Importing from China"

How this Reddit Post Drives Traffic:
Again, this is content that the subreddit will find extremely valuable. It's long-form and has been clearly personalized for Reddit (rather than copied and pasted from a blog). Another little hack he's noticed is that "photos can't be shown in [a Reddit] post" so the poster "needs" to include a link at the bottom to the article with all the supporting images. Nice touch.
Wrapping Up
Hopefully this resource has given your small business a better idea of how you can drive traffic with different social media platforms.
A few points which apply to all these networks:
Put the time in: Social media, on all platforms, is an investment. Your posts need to be carefully created, intelligently measured, and tested. If you just throw something out there haphazardly your audience won't grow or go anywhere near your site, and you'll waste whatever time you spent.
Focus on visuals: Facebook, Instagram, Twitter and Quora all give you a better response if your posts have visuals – images, gifs, graphs, screenshots, whatever.
Be active in the post-posting period: After you've published your post to Facebook or Reddit, don't just sit back and wait around. All these platforms need an investment of time and energy after the post has gone out. You need to actively respond to comments, ask questions, give feedback. Get the conversation going and more people will be enticed into it.